Remember summer nights spent toasting marshmallows over a crackling fire? The smell of a bonfire that lingered on your sweatshirt for days? Crunchy graham crackers layered with perfectly toasty marshmallows and melty chocolate? We remember those s'more-filled days fondly, but there's no reason they need to remain a happy memory. We're here to help you recreate this childhood favorite (only even better than you remember).
No self-respecting s'more is complete without a perfectly crisp graham, so we'll deliver the graham cracker your campfire treats deserve. Nostalgic for this American childhood favorite, we wondered what would happen if we changed up the recipe for graham crackers using great ingredients. What we created was an intensely flavored cookie more addictive than what we munched on as kids. In the spirit of constant improvement, we further wondered how we could make these crowd favorites even
tastier. Lo and behold, the flavor boost obtained from milling our own flour from organic soft white wheat grown in Michigan was the easy answer! We love the crackers' amped up flavors of toasted wheat, honey, and ginger—not to mention their more hearty, crisp texture—and you will, too!
The original "Graham" cracker was not the tasty sweet treat we know and love today; it was a bland, unsweetened biscuit made from finely ground, unbleached wheat flour, wheat bran, and coarsely ground germ, which also came to be known as "Graham bread."  First conceived in the 1830s, the crackers were consumed as part of a strict vegetarian and fiber-rich diet developed by the crackers' namesake, the Reverend Sylvester Graham (1794-1851), an eccentric Presbyterian minister from Connecticut who became a social reformer and ferocious advocate of healthful living during America's health craze of the 1820s and 1830s.
Exercising some combination of pseudoscience and faith, Graham believed that physical lust was harmful to the mind, body, and spirit and that a healthy diet, devoid of meat, fat, spices, and refined white flour, would aid in suppressing sinful carnal excess, which he saw as a genuine human affliction and the scourge of his time. His preaching and promotional writings on maintaining a healthy, plant-based, fiber-rich diet for physical, mental, and spiritual well-being won countless converts over the course of the nineteenth century, who came to be known as "Grahamites."
So, Dr. Graham, thanks for making graham crackers. Now, if ya don't mind, step aside and let us take them to a new level! Enjoy our crisp, flavorful, and not-too-sweet crackers. They'll take you right back to those summer campfires.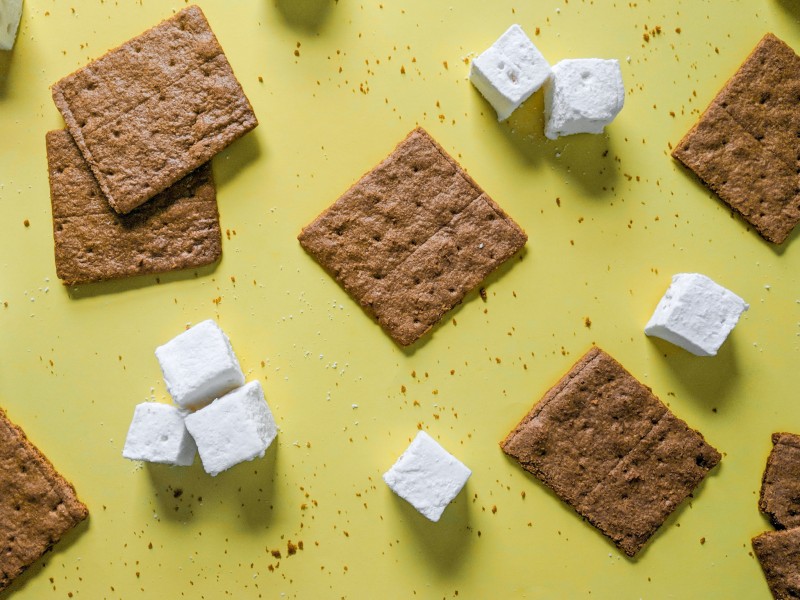 Pick up our Graham Crackers and Zingerman's Candy Manufactory's Marshmallows (Vanilla or Chocolate) in our shop, or take our Graham Crackers and Marshmallows class at BAKE!, our hands-on baking school.
In class, we'll have fun making chocolate and vanilla marshmallows and learning how to make up our own flavors. Strawberry marshmallows? Mint marshmallows? Birthday cake marshmallows? You betcha. Any marshie you can dream up, you can make. You won't believe the difference between your homemade marshmallows and the packaged varieties of your childhood. Join us and increase the flavor of your s'mores by 100% and go home with a dozen graham crackers, chocolate and vanilla marshmallows, graham cracker dough to bake later, and great coupons.
Photos by Emily Hanka (1 & 3), and Antonis Achilleos (2)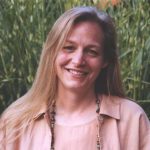 After a long, established career as a Ph.D. art history scholar and art museum curator, Lee, a Michigan native, came to the Bakehouse in 2017 eager to pursue her passion for artisanal baking and to apply her love of history, research, writing, and editing in a new exciting arena. Her first turn at the Bakehouse was as a day pastry baker. She then moved on to retail sales in the Bakeshop, followed by joining the Marketing Team and becoming the Bakehouse's designated culinary historian. In addition to her retail sales and marketing work, she's a member of the Bakehouse's Grain Commission, co-author and editor of the Bakehouse's series of cookbooklets, and a regular contributor to the BAKE! Blog and Zingerman's Newsletter, where she explores the culinary, cultural, and social history and evolution of the Bakehouse's artisan baked goods.