…In days to come your bins you'll heap
With grain well grown from careful sowing;
Wait till the crop is ripe to reap,
And keep the mill a-going…

…Less good from genius we may find
Than that from perseverance flowing
So have good grist and hand to grind
And keep the mill a-going.

– From the poem, "Keep the Mill A-Going," ca. 1845
by the American poet, Thomas Dunn English (1819-1902)
Now that the Bakehouse Grain Commission (BGC) is back together, after a hiatus during the pandemic, we've been getting into the swing of things by focusing our energy on the baking potential of our freshly milled whole grain flour from the organic grains we're sourcing regionally. Intending to feature one organic grain per quarter, we kicked off this new initiative in August, setting our sights on delving into the flavorful versatility of organic durum wheat.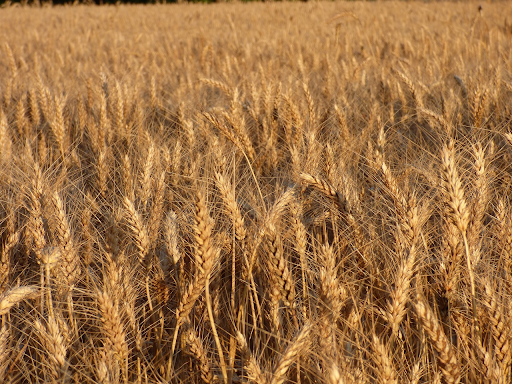 What is Durum Wheat?
Durum wheat is an ancient variety of hard red spring wheat, a close relative of ancient emmer that is exceptionally hard—hence the name durum, which is Latin for "hard." As such, Durum requires significant force to stone mill into coarse ground semolina for pasta and more finely ground durum flour for bread and pastry baking. 
Hazim Tugun, one of the Bakehouse's naturally-leavened-bread aficionados and now a rather seasoned miller of our freshly milled whole grain flours, embarked on a quest together with the BGC to find out what makes whole durum wheat tick from both a milling and baking standpoint and how we might incorporate it into the Bakehouse's freshly milled whole grain (FMWG) repertoire. Here is what he came up with in his research on durum wheat for this first installment of the BGC's Grain of the Quarter Adventure (so christened by Hazim):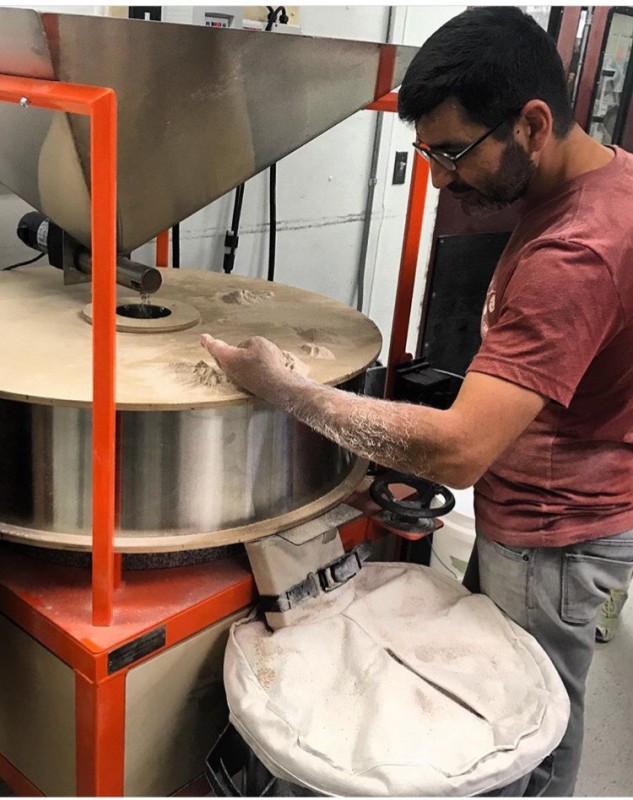 Durum wheat… the source of the semolina flour that is used to make one of the food staples of the world, pasta, as well as other traditional delicacies such as couscous or bulgur.
Durum is most commonly grown in the Mediterranean region, the northern plains of the United States and Canada, the desert areas between the southeast United States and north of Mexico. Present-day Turkey, Iraq, Iran, and Syria are considered to be the geographic origins of this grain. Having descended from its ancient cousin emmer (one of the hulled wheat or "farro" varieties),  durum (Triticum turgidum, spp. Durum), is genetically speaking less evolved than the modern bread wheat (Triticum aestivum). 
It stands out among other wheat varieties with its golden amber hue and glassy texture that is very hard to crush. It is this hardness combined with a high protein content, typically more than 12.5%, which makes this wheat a miller's delight (or challenge) to make it into the familiar, sandy-textured, golden-colored semolina flour. The golden color also means that the flours made from durum are rich in carotenoid pigments (the same naturally occurring compounds that make carrots or mangoes glow with their colors!), contributing to its distinct flavor that can be described as nuttier and slightly sweeter than modern wheat.
So, what exactly is semolina? It is the coarsely ground starchy endosperm of the durum wheat berry without the bran or the germ. When it is milled finer than that, it is typically called durum flour, or extra fancy durum flour. Despite the relatively high protein content, the gluten quality of durum is different from that of modern bread wheat. While it forms a relatively stretchy dough, the dough structure tends to be fragile, breaking down if mixed too much and also during long fermentations. With its hardness, high protein, and limited gluten characteristics, semolina is the choice flour for pasta makers. Breads made with mostly semolina or durum flours tend to have a dense and chewy texture. In some parts of the world, such as Altamura, Italy, durum breads are prized for that specific texture as well as distinct flavor. 
Durum Wheat at the Bakehouse
At the Bakehouse, we had been using durum wheat in a couple of different products. First, our golden-colored Sicilian Sesame Semolina bread, which mostly uses a combination of American semolina and durum flours. And, Pane Nero, now on vacation, is another traditional durum bread we've made using very flavorful, stone-ground, durum flours from Sicily. Once we started stone milling organic durum berries, from our partners at Janie's Mill, into whole grain flour here at the Bakehouse, we needed to decide how we were going to showcase it. We settled on three items: Sicilian Sesame Semolina bread, Olive Oil Cake, and Semolina Dumpling soup.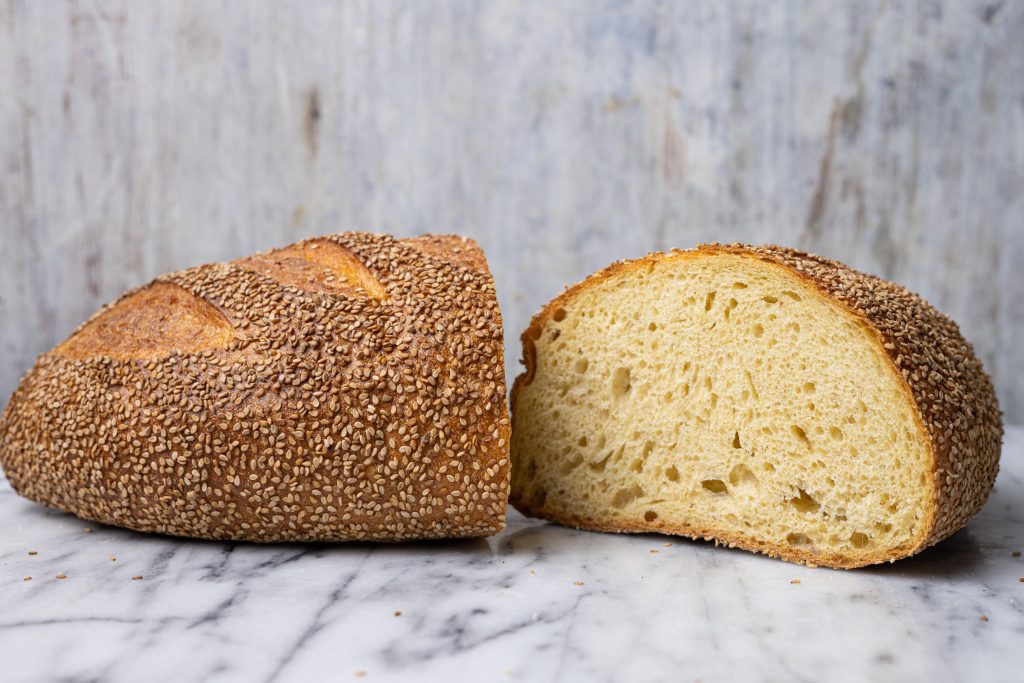 Sicilian Sesame Semolina 

The best bread comes from serious consideration of every detail.
James MacGuire, in "Milling for Artisan Bakers," The Art of Eating Magazine, No. 107, 2021 
It took several test bakes to get our preferred balance of whole durum in our Sesame Semolina. Here's what Hazim had to say about the process of breathing new, full-flavored life into a beloved, longtime Bakehouse classic that's been a favorite of Bakehouse founder, Frank Carrollo's, and of countless customers since the bakery opened in 1992:
To me, it's a perfect example of how we can take an already great food to the next level. And it shows how freshly milled whole grain flours can do that. In this case, our [original recipe for] Sesame Semolina is mostly made of durum wheat flour that comes from the heart (or the starchy endosperm) of the golden durum wheat berry, hence the bread's golden color—it is a combination of coarsely milled semolina and finely milled durum flours. With an overnight preferment (poolish) and a long fermentation the day that the dough is mixed coupled with toasted sesame seeds on the outside, you get an irresistible bread that gives you the distinct flavors of the durum wheat, the chew from the hardness of this wheat (after all, it is the wheat of choice for pasta), and its wonderful combination with the toasted sesame seeds. 
For the new Sesame Semolina, we are stone-milling Montana-grown organic durum wheat [berries] that we are getting from our friends at Janie's Mill and using this finely milled fresh flour to replace one-third of all the flour that goes into the bread. That means we are getting the wonderful flavor and nutrition benefits of the bran and the germ as well—aromatic oils, minerals, and fiber to name a few. We also increased the hydration of the mix to account for the thirstiness of the fresh flour. The result…I could smell the difference first of all when I held our regular beloved semolina side by side with this new version. They were both warm out of the oven as part of a test batch. Wonderful aromas on both, but it was striking how richer [and more vibrant] the aromas were coming from the new version. On the inside, this new version has a slightly more moist and relatively softer crumb with a richer hue of yellow thanks to the addition of the fresh durum flour. Now, you can simply taste more of the grain that this bread is named after… it's sweeter, a bit nuttier, and to me, more satisfying.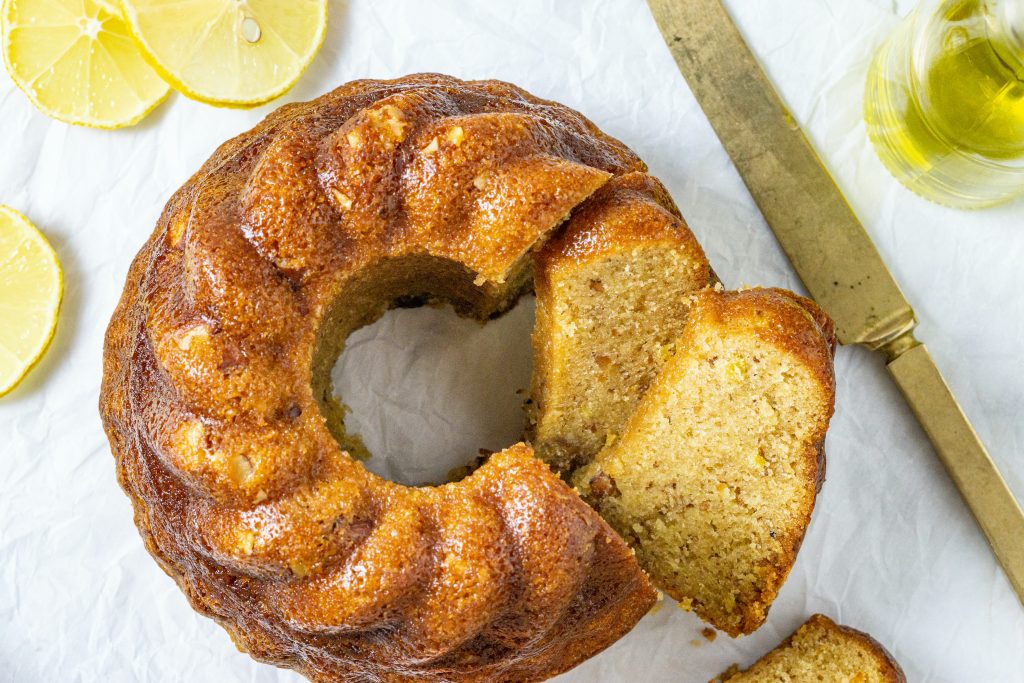 Olive Oil Cake
A baker's work is never done, so we were eager to take our freshly milled whole durum flour for a pastry spin as well. We found the perfect home for the whole grain flour in our oh-so-tasty Olive Oil coffee cake. Versions of the cake originate from North Africa and the Eastern Mediterranean, making durum a regionally appropriate grain. Swapping out the all-purpose flour in the original recipe for our freshly milled whole durum flour once again upped the flavor, nutritional, and textural ante. When we combined this ultra-fresh whole grain flour with the organic Tunisian olive oil from the Mahjoub plantation, orange liqueur, fresh orange juice, fresh lemon zest, and toasted almonds, we all shouted "Olive it!" to the rooftops and you will too! It might look simple, but it sure is full of flavor, just in time for the holidays, especially this year's Hanukkah celebrations.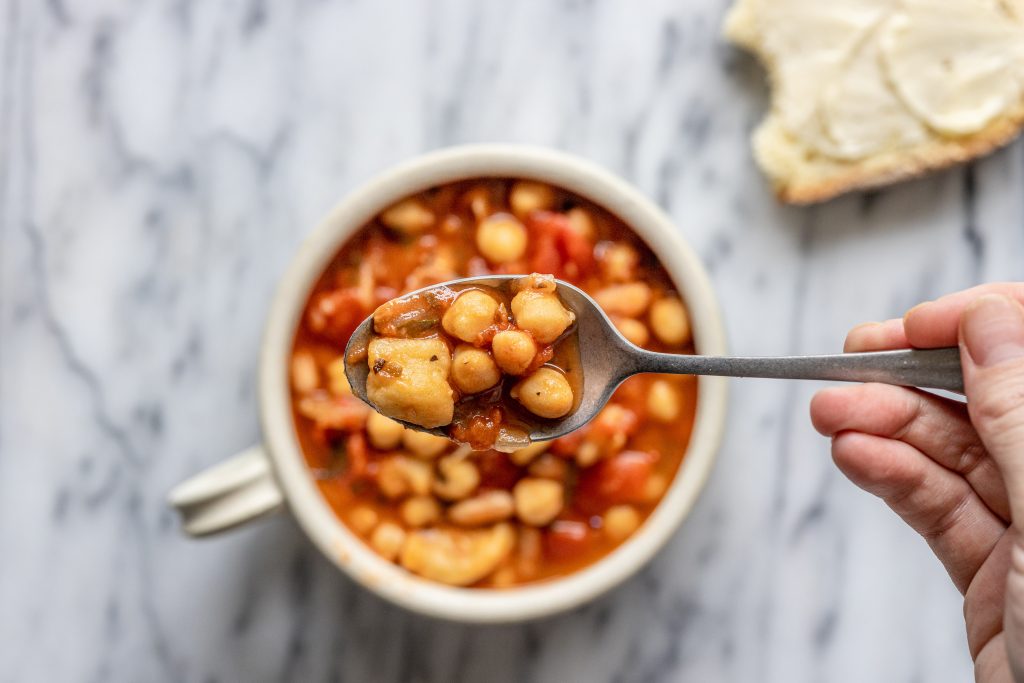 Semolina Dumpling 
This satisfying new addition to our lunch line-up is a traditional Italian tomato-based soup with chickpeas, beans, bacon, and wonderful, chewy semolina dumplings, made with our freshly milled durum wheat flour. We're serving it up every Friday.
So there you have it! Stay tuned for the BGC's next Grain of the Quarter Adventure, in the new year, after a brief hiatus for the holiday season.
Hungry for More?
Photo credits: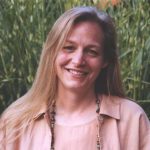 After a long, established career as a Ph.D. art history scholar and art museum curator, Lee, a Michigan native, came to the Bakehouse in 2017 eager to pursue her passion for artisanal baking and to apply her love of history, research, writing, and editing in a new exciting arena. Her first turn at the Bakehouse was as a day pastry baker. She then moved on to retail sales in the Bakeshop, followed by joining the Marketing Team and becoming the Bakehouse's designated culinary historian. In addition to her retail sales and marketing work, she's a member of the Bakehouse's Grain Commission, co-author and editor of the Bakehouse's series of cookbooklets, and a regular contributor to the BAKE! Blog and Zingerman's Newsletter, where she explores the culinary, cultural, and social history and evolution of the Bakehouse's artisan baked goods.