What's for breakfast? It's a question we humans have been pondering since time immemorial. Breakfast traditions abound throughout history and across cultures, from a light, nutritional meal at dawn to a bountiful feast enjoyed during a leisurely morning. Yet one constant is that simple foods derived from cultivated grains produced by farmers, millers, and bakers have been at the heart of breakfast.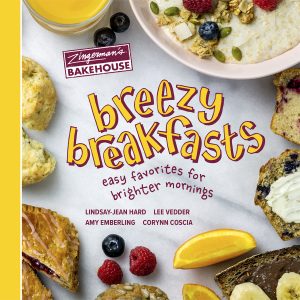 Here at the Bakehouse, with the most flavorful ingredients we can find, we've been rustling up classic baked, grain-based breakfast fare, all handmade from scratch, for nearly all of our own history. It runs the gamut from artisan multigrain breads for toast to muffins, scones, and even pie. And what's breakfast without some of our hearty whole-grain wheat porridge and baked oatmeal to rev your internal engine for the day?
We love baking for breakfast. In fact, we have so many recipes for tasty breakfast goodies that we plan on creating 2 cookbooklets to cover them all. Breezy Breakfasts: Easy Favorites for Brighter Mornings, is the first one dedicated to the morning meal. Available November 6th, it will focus on muffins, scones, and porridges, like our baked oatmeal and Cream of the Crop. We'll also feature unique Bakehouse pastries, like Patti Pockets. We're also sharing 20 bread and garnish combinations to elevate your approach to toast. Breakfast made special with ease. 
You'll be rustling up our breezy grain-based breakfast fare at home soon enough. In the meantime, get baking with this sneak preview of Orange and Date Einkorn Scones from our Breezy Breakfasts cookbooklet: 
Orange and Date Einkorn Scones
Considered the oldest grain known in the history of agriculture, the mother of all modern wheat, einkorn offers a variety of essential nutrients and a toasty flavor that's delicious in all kinds of baked goods. Einkorn wheat once grew wild around the world, but, like many other heirloom grains, it was weeded out as farmers cultivated modern crops and easier-to-harvest varietals. Still, this ancient grain is prized for its nutrients and lower levels of gluten. Resembling large-size golden flax seeds, the organic einkorn we use at the bakery is from a Centennial Farm in Caro, Michigan that is run by 4th and 6th generation family members. When we mill it on our stone mill, it produces a fluffy, aromatic whole grain flour. We love that this scone is full of both flavor and history.
Ingredients
3 3/4

cups

Einkorn flour

(453 grams)

6

tablespoons

Granulated sugar

(80 grams)

1

tablespoon + 2 teaspoons

Baking powder

(25 grams)

2

teaspoons

Fine sea salt

(10 grams)

1/2

cup

Butter, cold, 1/4-inch dice

(114 grams)

1/2

cup

Dates, 1/4-inch dice

(82 grams)

1

cup

Heavy cream, cold

(228 grams)

2

tablespoons

Orange zest

(32 grams)
Instructions
In a large bowl, stir together the flour, sugar, baking powder, and salt with a fork. Mix until well combined.

Add the diced butter to the dry mixture. Working quickly, cut the butter into the flour mixture using a pastry blender. Cut until the mixture looks like coarse cornmeal with pea-size pieces of butter. If you do not have a pastry blender, you can use two butter knives or your hands. If using your hands, break the pieces of butter up in your fingers and then pick up some butter and flour and rub it together in the palms of your hands.

Add the date pieces to the bowl and mix gently to combine. Make a well in the center of the mixture.

Add the heavy cream and the orange zest into the well in the dry ingredients and mix with a fork until the ingredients are just moistened.

Gently knead the dough in the bowl, 6 to 8 times, using your hand or a plastic scraper. The goal is to evenly distribute the moisture from the cream and to bring the dough together. By the end of kneading, there should be no loose flour remaining in the bowl.

Turn the dough out onto a lightly floured surface, divide into two pieces of equal size, and gently shape into round balls. 

Lightly sprinkle the work surface, as well as the tops of the dough, with flour. Place the balls of dough on the flour and pat or roll out the dough into disks that are 1/2-inch thick and approximately 7 inches in diameter.

Using a bench knife or a chef's knife, cut each circle into 6 triangular wedges. Place the scones on two parchment-lined baking sheets with at least 2 inches between them. Rotate baking sheets midway through baking, both from top to bottom and front to back.

Bake the scones for 15 to 20 minutes, or until the tops and bottoms are golden brown.
OUR COOKBOOK & COOKBOOKLET SERIES
Our first cookbook, published in 2017 to mark the Bakehouse's 25th anniversary, includes 65 of our most popular recipes and some in-house favorites. We have many more recipes to share, and, within the Bakehouse community, there's a team of talented bakers, instructors, historians, photographers, and graphic designers excited to create more cookbooks.
That excitement now feeds our new series of small-format, thematic "cookbooklets" that blend history, stories, and our dedication to traditional methods and flavorful ingredients with easy-to-follow recipes. The cookbooklets are team collaborations because we believe we get great results with a diversity of perspectives and skills. The series includes the inaugural cookbooklet, Cup or Bowl? Favorite Soups from the Zingerman's Bakehouse Kitchen and now Breezy Breakfasts. Look for our 3rd cookbooklet in the series, Fancy Schmancy Holiday Cookies, in December. It will be out just in time for the holidays and our highly anticipated "Fancy Schmancy Holiday Cookies" classes taught virtually, online, by BAKE!, our hands-on teaching bakery.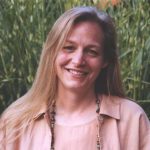 After a long, established career as a Ph.D. art history scholar and art museum curator, Lee, a Michigan native, came to the Bakehouse in 2017 eager to pursue her passion for artisanal baking and to apply her love of history, research, writing, and editing in a new exciting arena. Her first turn at the Bakehouse was as a day pastry baker. She then moved on to retail sales in the Bakeshop, followed by joining the Marketing Team and becoming the Bakehouse's designated culinary historian. In addition to her retail sales and marketing work, she's a member of the Bakehouse's Grain Commission, co-author and editor of the Bakehouse's series of cookbooklets, and a regular contributor to the BAKE! Blog and Zingerman's Newsletter, where she explores the culinary, cultural, and social history and evolution of the Bakehouse's artisan baked goods.