Every year, on May 16, the French celebrate the Feast of St. Honoré, honoring the 6th-century French bishop who eventually became the patron saint of bakers and pastry chefs. And since the French hold their corner bakery right up there with the Catholic Church, the celebration is not complete without a big bite of the show-stopping confection named for the revered saint.  A classic French torte, the Gateau St. Honoré is a tasty marriage of the fundamental elements of the pastry baker's craft: pâte feuilletée (puff pastry), pâte á choux (choux pastry), crème pâtissière (pastry cream), whipped cream, and caramelized sugar. The torte has a puff-pastry base, topped with pastry cream and whipped cream, surrounded by profiteroles (cream puffs) of pâte á choux, which have been dipped in caramelized sugar, their sugary tops resembling saints' halos.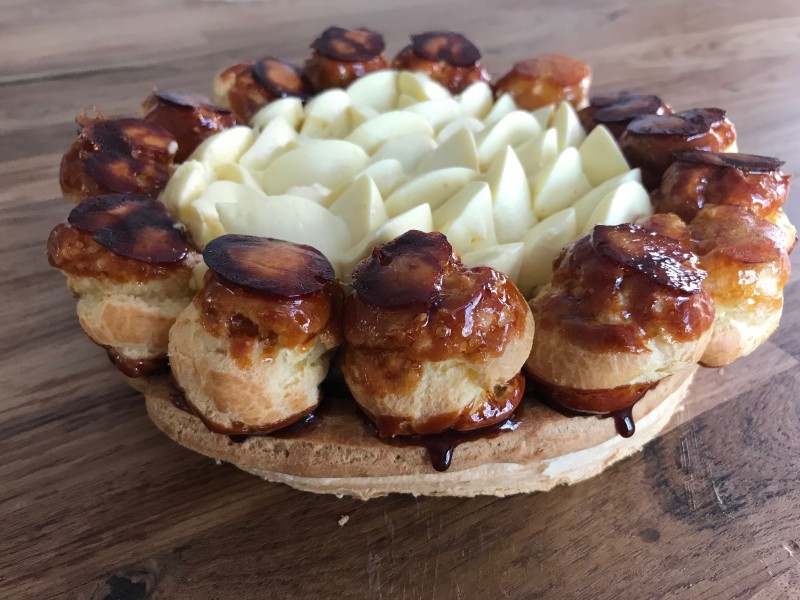 The torte's namesake, Honoré, also known as Honoratus, became bishop of Amiens, in the north of France, in 554 AD. According to tradition, a number of miraculous events occurred during his service, which spared farmers, millers, and bakers from natural disasters. After his death, processions in his honor supposedly stopped both droughts and deluges, ensuring good wheat harvests. This won Honoré the admiration of bakers across France. In 1204, a Parisian baker built a chapel (no longer extant) to commemorate him, and in the 17th century, the French baker's guild anointed him the patron saint of bakers and pastry chefs. In religious and popular imagery,  Honoré is often depicted holding a baker's peel—the flat wooden paddle used to move loaves to and from a hot oven—often with loaves of crusty French bread nearby and with bakers at work, in the background, kneading dough and manning wood-burning ovens.
Fast-forward to the 19th century, when Parisian pastry bakers began bringing glory to the saint's name in the best way they knew how—with a fabulous show-stopping confection. The Gateau St. Honoré was developed at the legendary Chiboust pastry shop on Paris' Saint Honoré Street, which, alas, no longer exists. It started out as a ring-shaped brioche filled with pastry cream that Chiboust lightened with an airy Italian meringue, creating a new kind of filling that came to be known as crème Chiboust, which French bakers still use. According to Parisian pastry chef, Pierre Hermé, one of Chiboust's bakers, August Jullien, came up with his own version, replacing the ring of brioche dough with a ring of little cream puffs.
By the late 19th century, the Gateau St. Honoré had taken its present form, incorporating a disk of puff pastry filled with pastry cream, topped with a crown of cream puffs dressed up even further with a crunchy cap of caramelized sugar, and draped with swags of whipped cream. The plain version of the torte—simply flavored with vanilla and the bittersweet notes of burnt sugar—is most common, but you can find fanciful seasonal variations, showcasing everything from tropical fruits to green tea.
In modern-day France, the Feast of St. Honoré still survives as a time to appreciate all sorts of breads and pastries. French baker Dominique Geulin, who grew up in Normandy and is now based in Portland OR with his bakery St. Honoré Boulangerie, fondly remembers how bakers in France (including his parents) would open their doors on May 16 for community festivals, school field trips, and public demonstrations. The modern-day French baker's organization, Confédération Nationale de la Boulangerie-Pâtisserie Français, also takes that week as the occasion to hold its annual meeting during a full-on festival of bread.
This fall, in October and November, BAKE!, the Bakehouse's hands-on teaching bakery, is offering two classes on the Gateau St. Honoré, where you'll learn all the classic French techniques—pâte feuilletée (puff pastry), pâte á choux (choux pastry), crème pâtissière (pastry cream), whipped cream, and caramelized sugar—that go into making this show-stopping dessert, a six-hour project well worth the effort! (Don't worry, we provide a great Bakehouse lunch, too.) Any dessert that is built out of other desserts is a winner in our book and the Gateau St. Honoré is sure to impress your guests! (Check out the Bakehouse's Instagram highlights for more behind-the-scenes shots from this class!)
By Lee Vedder
Bakehouse Historian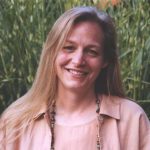 After a long, established career as a Ph.D. art history scholar and art museum curator, Lee, a Michigan native, came to the Bakehouse in 2017 eager to pursue her passion for artisanal baking and to apply her love of history, research, writing, and editing in a new exciting arena. Her first turn at the Bakehouse was as a day pastry baker. She then moved on to retail sales in the Bakeshop, followed by joining the Marketing Team and becoming the Bakehouse's designated culinary historian. In addition to her retail sales and marketing work, she's a member of the Bakehouse's Grain Commission, co-author and editor of the Bakehouse's series of cookbooklets, and a regular contributor to the BAKE! Blog and Zingerman's Newsletter, where she explores the culinary, cultural, and social history and evolution of the Bakehouse's artisan baked goods.