You don't have to even be on TikTok to know about some of the trends that arise from the app. Whether it's a song, dance challenge, or recipe, these viral sensations go beyond social media to become mainstream hits. We're going to give some of these trending recipes a try to test them out for ourselves and let you know if you should hop on the bandwagon, too. Today we're trying TikTok Garden Focaccia.
During peak pandemic days, many of us found comfort in baking bread. This familiar comfort food brought us together as we learned how to nurture sourdough starters and filled our kitchens with the aroma of banana bread. We also learned about Garden Focaccia, a combination of focaccia and edible toppings designed to look like, well, a garden!
TIKTOK GARDEN FOCACCIA 101
Garden Focaccia doesn't require a lot of ingredients, just some imagination (or a quick internet search for decorating inspiration, if needed!). 
You'll want to start with focaccia dough, either our recipe or any other one you're partial to. You can find our recipe in our cookbook, Zingerman's Bakehouse, or on our blog, here. Most focaccia recipes will need some time to ferment and proof, so take that into consideration and read through the recipe in its entirety before starting. You can play around with the baking dish you use, using a smaller one than the recipe calls for if you'd like thicker focaccia, or a larger one, like a baking sheet if you'd like thinner focaccia (and thus more surface space for artistic exploration). Just keep in mind that this will impact the baking time, so adjust accordingly.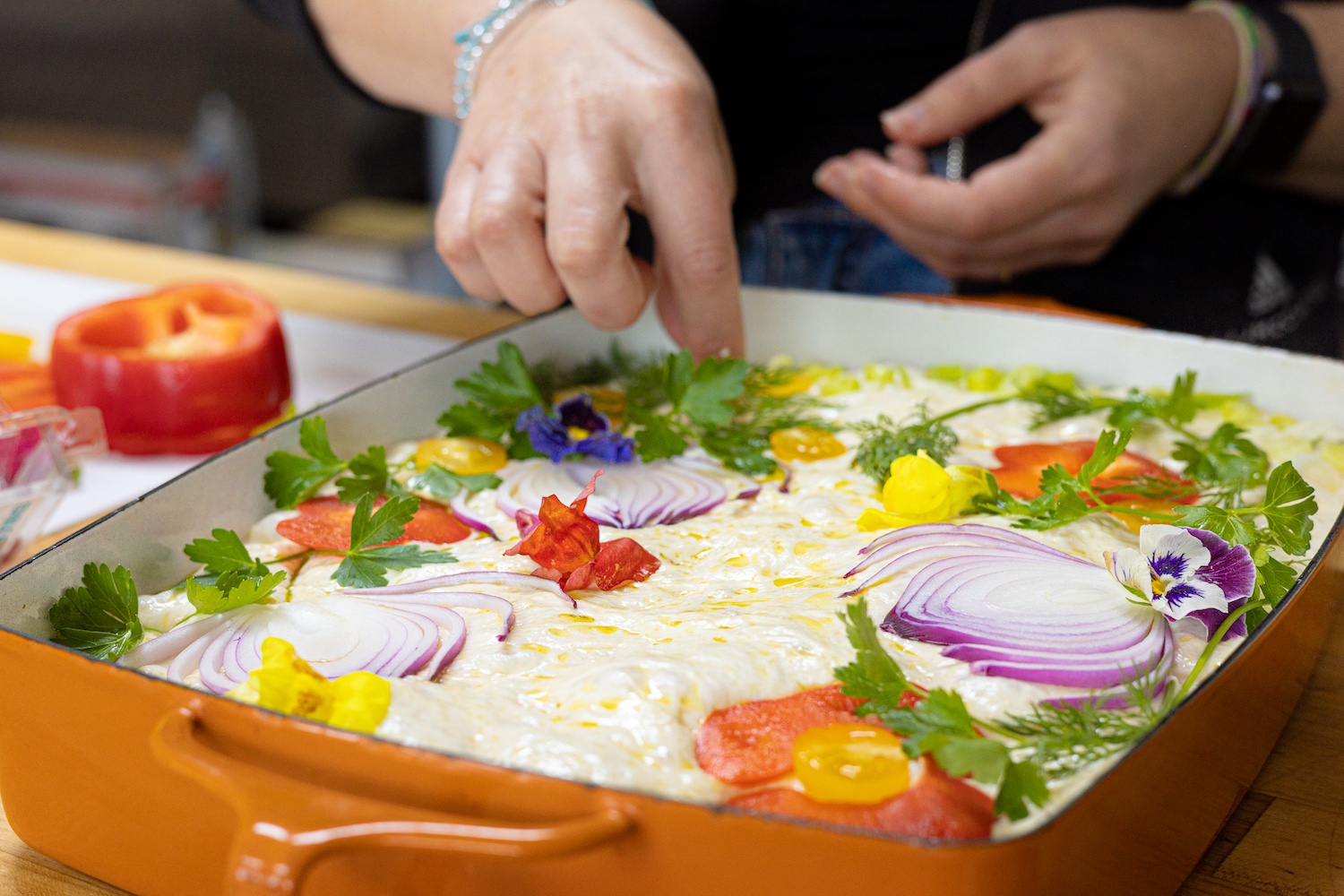 Next, you'll want to gather your toppings, prepare them, and decorate your dough. We decorated our Garden Focaccia with red onion, red bell pepper, scallions, cherry tomatoes, edible flowers, and herbs. Everything needs to be able to cook along with the focaccia, so we thinly sliced our onions and peppers, cut the cherry tomatoes in half, and separated the herbs into small sprigs. If you'd like to use other ingredients that might take longer, consider cooking them ahead of time.  
MAKE IT FOR YOURSELF
TikTok Garden Focaccia
Ingredients
Vegetables, herbs, and seeds for topping, see above for some suggestions and preparation tips

Olive oil

1

Batch of focaccia dough, ready to bake
Instructions
Heat oven to 400°F (or lower, as your focaccia recipe directs).

Prepare your ingredients. See above for tips.

Lightly oil your baking dish. Place the dough into the dish, drizzle a little olive oil on your hands to grease them, and gently pat the dough flat—either to the edges of the dish, or in a freeform shape of your choosing.

Drizzle more olive oil on top (a tablespoon or two), then decorate with your prepared toppings.

Bake for the time called for in your focaccia recipe, adjusting as necessary depending on the baking dish used.
OUR FINAL VERDICT? 
Garden Focaccia shines when enjoyed mainly as a fun activity (for kids or anyone who enjoys the overlap of art and food). We give it 3 out of 5 Sour Cream Coffee Cakes. (Why coffee cakes instead of stars? It's our all-time, most-popular item… so it's our star!) 
HUNGRY FOR MORE?
Ready for more baking projects? Pick up a copy of our first cookbook,

Zingerman's Bakehouse

, packed with more of our favorite recipes.

Or, if you'd prefer to enjoy the process without the cleanup, join us at

BAKE!, our hands-on baking school

for a class (virtual and in-person options available) on anything from pastries to cake decorating and breads to demonstrations with special guests