Pecan pie is hardly hard to find—you'll see one in nearly every American bakery, or at least on the menu in most every roadside diner. The challenge isn't finding one—it's finding a great one. If you or someone you know has been on the search, I feel super confident that we can help you! Paesano bread, coffee cakes, Magic Brownies, and French baguettes are certainly a more significant chunk of our sales, and people come a long way to buy hard-to-find Jewish rye, rugelach, or Cranberry Pecan bread, or ship them from us all over the country. With all that good stuff going on, it'd be easy to ignore the pecan pie. I'd say put it front of mind. I think the pecan pie at the Bakehouse is one of the best things we bake!
I'm not the only one. Managing Partner Amy Emberling wrote in Zingerman's Bakehouse, "This is my favorite Bakehouse pie, just because I enjoy it and also because it fits our mission perfectly—full flavored and traditional." Want an outside affirmation? It's been acclaimed by the Detroit News, featured in In Style magazine, and was famously carried years ago to Paris by Frankie Andreu's wife to help him celebrate the Tour de France bicycle team victory! All that, and I still smile thinking about the guy with the big biceps and the navy blue t-shirt who'd come to town a few years back from New Orleans to attend the annual Plumbers and Pipefitters conference who simply couldn't believe how good it was.
To state it simply, this is an exceptional pecan pie. Muscovado brown sugar is one of the "secrets." In the spirit of time management, it takes just as long to put this amazing sugar in our pie as it would take to use industrially-refined brown sugar, but the flavor it brings out is about fifty-five times better. As Amy elucidates, "What makes the difference between a good version and a great version is the quality of the ingredients and their proportions." Above and beyond the sugar, "Real vanilla and flavorful butter are also critical." And the featured element—we use mammoth halves of "Western Schley and Pawnee pecans, both of which are known for their good flavor."
One of our regular customers orders about 100 of the Bakehouse Pecan Pies each year from the crew at Business Gifts. I think he's onto something. Shelf life is solid—you don't have to eat it right on the first day, and it freezes well. The flavor is incredible. As long as the recipient eats nuts and isn't on a no-sugar diet, you're in great shape. If you're doing the eating yourself, consider a scoop of Creamery gelato or some freshly whipped cream. Want to take things up a notch? Add a bit of ground espresso or cocoa powder to the whipped cream. As Mississippi-born food writer Craig Claiborne once declared, "Nothing rekindles my spirits, gives comfort to my heart and mind, more than a visit to Mississippi … and to be regaled as I often have been, with a platter of fried chicken, field peas, collard greens … to top it all off with a wedge of freshly baked pecan pie." You can recreate a reasonable facsimile of Claiborne's spiritually uplifting meal by coming by the Roadhouse and finishing it off with a slice of this amazingly tasty pie! It also makes a marvelous breakfast—like a pecan roll in a pie crust! Pair it with some of the Mocha Java from the Coffee Company and you'll get your day off to a delicious start!
HUNGRY FOR MORE?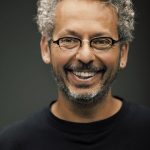 In 1982, Ari Weinzweig, along with his partner Paul Saginaw, founded Zingerman's Delicatessen with a $20,000 bank loan, a Russian History degree from the University of Michigan, 4 years of experience washing dishes, cooking and managing in restaurant kitchens and chutzpah from his hometown of Chicago. They opened the doors with 2 employees and a small selection of specialty foods and exceptional sandwiches.
Today, Zingerman's Delicatessen is a nationally renowned food icon and the Zingerman's Community of Businesses has grown to 10 businesses with over 750 employees and over $55 million in annual revenue. Aside from the Delicatessen, these businesses include Zingerman's Bakehouse, Coffee Company, Creamery, Roadhouse, Mail Order, ZingTrain, Candy Manufactory, Cornman Farms and a Korean restaurant that is scheduled to open in 2016. No two businesses in the Zingerman's Community of Businesses are alike but they all share the same Vision and Guiding Principles and deliver "The Zingerman's Experience" with passion and commitment.
Besides being the Co-Founding Partner and being actively engaged in some aspect of the day-to-day operations and governance of nearly every business in the Zingerman's Community, Ari Weinzweig is also a prolific writer. His most recent publications are the first 4 of his 6 book series Zingerman's Guide to Good Leading Series: A Lapsed Anarchist's Approach to Building a Great Business (Part 1), Being a Better Leader (Part 2), Managing Ourselves (Part 3) and the newly-released Part 4, The Power of Beliefs in Business. Earlier books include the Zingerman's Guides to Giving Great Service, Better Bacon, Good Eating, Good Olive Oil, Good Vinegar and Good Parmigiano-Reggiano.
Ari regularly travels across the country (and world) on behalf of ZingTrain, teaching organizations and businesses about Zingerman's approach to business. He is a sought-after Keynote speaker, having delivered keynotes for Inc. 500, Microsoft Expo Spring Conference, Great Game of Business Gathering of Games, Positive Business Conference at the University of Michigan Ross School of Business, American Society for Quality (ASQ), and the American Cheese Society. Most recently, Ari and Paul Saginaw were invited to address an audience of 50,000 for the University of Michigan 2015 Spring Commencement.
One of Zingerman's Guiding Principles is being an active part of the community and in 1988, Zingerman's was instrumental in the founding of Food Gatherers, a food rescue program that delivers over 5 million pounds of food each year to the hungry residents of Washtenaw county. Every year Zingerman's donates 10% of its previous years profits to local community organizations and non-profits. Ari has served on the board of The Ark, the longest continuously operating folk music venue in America.
Over the decades, the Zingerman's founding partners have consistently been the recipients of public recognition from a variety of diverse organizations. In April 1995, Ari and Paul were awarded the Jewish Federation of Washtenaw County's first Humanitarian Award. In 2006, Ari was recognized as one of the "Who's Who of Food & Beverage in America" by the James Beard Foundation. In 2007, Ari and Paul were presented with the Lifetime Achievement Award from Bon Appetit magazine for their work in the food industry. Ari was awarded the Lifetime Achievement Award by the American Cheese Society in 2014. And Ari's book, Building a Great Business was on Inc. magazine's list of Best Books for Business Leaders.
Notwithstanding the awards, being engaged on a daily basis in the work of 10 businesses and 21 partners, writing books on business and in-depth articles on food for the Zingerman's newsletter, Ari finds time to be a voracious reader. He acquires and reads more books than he can find room for. Ari might soon find himself the owner of the largest collection of Anarchist books in Ann Arbor outside the Labadie collection at the University of Michigan library!