Two of my favorite books of all time were written by the Tunisian author, sociologist, philosopher, and novelist, Albert Memmi. I greatly enjoyed his semi-autobiographical Pillar of Salt and his non-fiction, The Colonizer and the Colonized. I have been fascinated with Tunisia—its culture and its cooking—ever since I read them. Memmi passed away in May 2020 at the age of 99. (In a rather poetic way, he was born during the Spanish flu pandemic and passed away during Covid). While food was not the main subject of his work, Memmi wrote some lovely and intriguing descriptions of local markets and of a range of traditional Tunisian dishes. In The New York Times, Richard Locke described Memmi as "a Tunisian Balzac graced with Hemingway's radical simplicity and sadness."
Mahjoub Olive Oil
Twenty years after reading Memmi's books, I had the chance to meet a man who is also a fan of Memmi's writing. Majid Mahjoub is now a good friend and also probably the premier ambassador of Tunisian cuisine in the world. Majid's family has been making world-class olive oil, harissa, and a host of other great traditional foods for over a century now. Having been to visit his homeland a few times, I would agree with Majid: "What Tunisia has to say is unique in the world." The wonderful Bakehouse Olive Oil Cake, learned from Majid and his wife Onsa, is just one of many, many marvelous examples.
While most Americans might assume that butter is where it's at for baking, in the Mediterranean it's always been the norm to bake with olive oil. It leads to some lovely baked goods. Clair Saffitz, writing for Bon Appetit, declared, "Even die-hard butter devotees admit that olive oil makes exceptionally good cakes." As you would expect, the better the quality of oil you bake with, the better the flavor of whatever is made with it. The fruity fullness of the Mahjoub's oil is the basis of the flavor of the Bakehouse's Olive Oil Cake.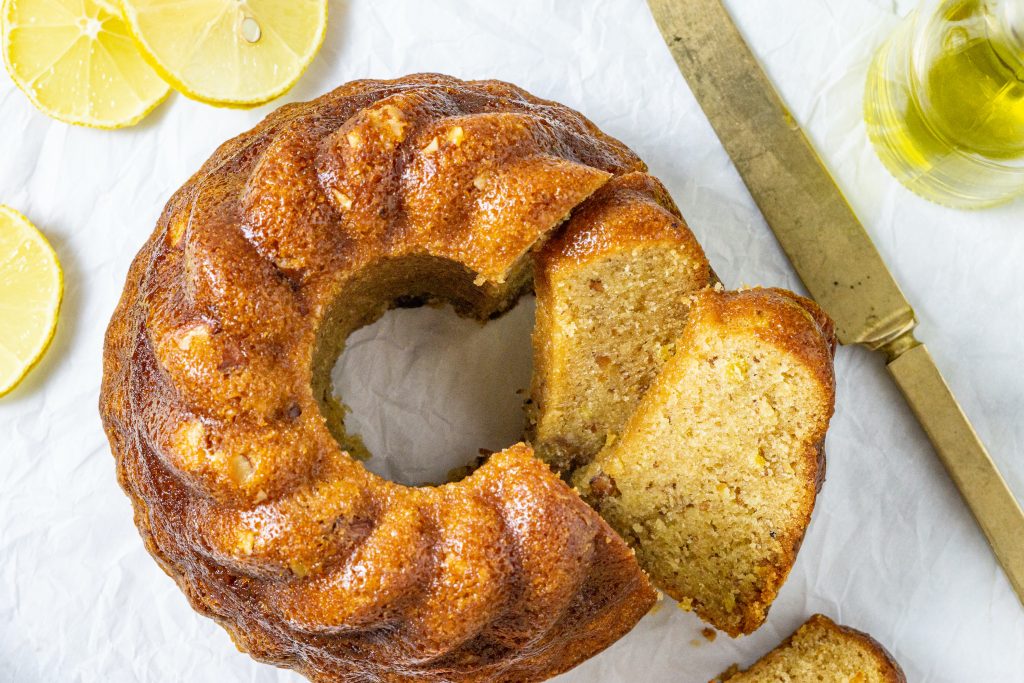 Majid—along with his two brothers, seven sisters, and three nephews—manages the family business. Their organic extra virgin olive oil is made from the fruit of the family's centuries-old groves and pressed right on the farm. It has a great full flavor that's somehow both modest and fruit-forward at the same time. I know it well because it's what Tammie and I cook with every evening at our house. The Mahjoub family uses Chetoui olives grown in the Mejerda Valley of northern Tunisia. The olives are crushed using very traditional methods in small batches using a pair of ancient granite millstones. The olive liquid is skimmed off the top by hand in an old process called, in French, á la feuille. The finished product is an elegant, delectable, unfiltered organic oil.
How to Enjoy Our Olive Oil Cake
The Bakehouse Olive Oil Cake is enlivened with fresh orange juice, orange liqueur, fresh lemon zest, and toasted almonds. Excellent with tea or coffee for breakfast, an afternoon break, or after dinner. Really good dabbed with a bit of orange marmalade or fruit jam. It goes wonderfully well with almond butter we bring in. It's particularly tasty grilled up in a skillet—with a bit more olive oil, of course.
The olive oil cake is particularly timely because olive oil is at the heart of the Chanukah story. While the latkes I grew up with are delicious, the real point would have been the olive oil. It's not hard to imagine Albert Memmi—growing up in a Tunisian Jewish family—delighting in an olive oil cake much like this one as part of a Chanukah meal.
It brings a bit of Mediterranean sunshine to us here in the Midwest!
HUNGRY FOR MORE?
Sign up for Ari's Top 5 enewsletter to hear more from Ari every week!
Grab an Olive Oil Cake at the Bakehouse or give us a call (734-761-2095) to reserve one. (You can also find our Olive Oil Cake at the Deli and Roadshow.)
If you want to make a similar sort of olive oil cake at home, there's a lovely recipe for one in our first cookbook, Zingerman's Bakehouse and we also shared it here on the blog.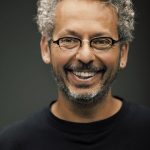 In 1982, Ari Weinzweig, along with his partner Paul Saginaw, founded Zingerman's Delicatessen with a $20,000 bank loan, a Russian History degree from the University of Michigan, 4 years of experience washing dishes, cooking and managing in restaurant kitchens and chutzpah from his hometown of Chicago. They opened the doors with 2 employees and a small selection of specialty foods and exceptional sandwiches.
Today, Zingerman's Delicatessen is a nationally renowned food icon and the Zingerman's Community of Businesses has grown to 10 businesses with over 750 employees and over $55 million in annual revenue. Aside from the Delicatessen, these businesses include Zingerman's Bakehouse, Coffee Company, Creamery, Roadhouse, Mail Order, ZingTrain, Candy Manufactory, Cornman Farms and a Korean restaurant that is scheduled to open in 2016. No two businesses in the Zingerman's Community of Businesses are alike but they all share the same Vision and Guiding Principles and deliver "The Zingerman's Experience" with passion and commitment.
Besides being the Co-Founding Partner and being actively engaged in some aspect of the day-to-day operations and governance of nearly every business in the Zingerman's Community, Ari Weinzweig is also a prolific writer. His most recent publications are the first 4 of his 6 book series Zingerman's Guide to Good Leading Series: A Lapsed Anarchist's Approach to Building a Great Business (Part 1), Being a Better Leader (Part 2), Managing Ourselves (Part 3) and the newly-released Part 4, The Power of Beliefs in Business. Earlier books include the Zingerman's Guides to Giving Great Service, Better Bacon, Good Eating, Good Olive Oil, Good Vinegar and Good Parmigiano-Reggiano.
Ari regularly travels across the country (and world) on behalf of ZingTrain, teaching organizations and businesses about Zingerman's approach to business. He is a sought-after Keynote speaker, having delivered keynotes for Inc. 500, Microsoft Expo Spring Conference, Great Game of Business Gathering of Games, Positive Business Conference at the University of Michigan Ross School of Business, American Society for Quality (ASQ), and the American Cheese Society. Most recently, Ari and Paul Saginaw were invited to address an audience of 50,000 for the University of Michigan 2015 Spring Commencement.
One of Zingerman's Guiding Principles is being an active part of the community and in 1988, Zingerman's was instrumental in the founding of Food Gatherers, a food rescue program that delivers over 5 million pounds of food each year to the hungry residents of Washtenaw county. Every year Zingerman's donates 10% of its previous years profits to local community organizations and non-profits. Ari has served on the board of The Ark, the longest continuously operating folk music venue in America.
Over the decades, the Zingerman's founding partners have consistently been the recipients of public recognition from a variety of diverse organizations. In April 1995, Ari and Paul were awarded the Jewish Federation of Washtenaw County's first Humanitarian Award. In 2006, Ari was recognized as one of the "Who's Who of Food & Beverage in America" by the James Beard Foundation. In 2007, Ari and Paul were presented with the Lifetime Achievement Award from Bon Appetit magazine for their work in the food industry. Ari was awarded the Lifetime Achievement Award by the American Cheese Society in 2014. And Ari's book, Building a Great Business was on Inc. magazine's list of Best Books for Business Leaders.
Notwithstanding the awards, being engaged on a daily basis in the work of 10 businesses and 21 partners, writing books on business and in-depth articles on food for the Zingerman's newsletter, Ari finds time to be a voracious reader. He acquires and reads more books than he can find room for. Ari might soon find himself the owner of the largest collection of Anarchist books in Ann Arbor outside the Labadie collection at the University of Michigan library!