The commitment everyone at the Bakehouse has made to this bread is a great example of artful thinking at work. The bread itself is terrific, and by baking it, the Bakehouse is quietly helping to encourage Michigan grain growers to go back to old varieties, explore organic farming, and restore a healthier, less erratic way of working together that energizes instead of exhausts. Over the course of the seven years that we've been making it now, True North has become one of my favorite breads. I'm not alone—its popularity has grown so much that we've just this month begun baking it seven days a week!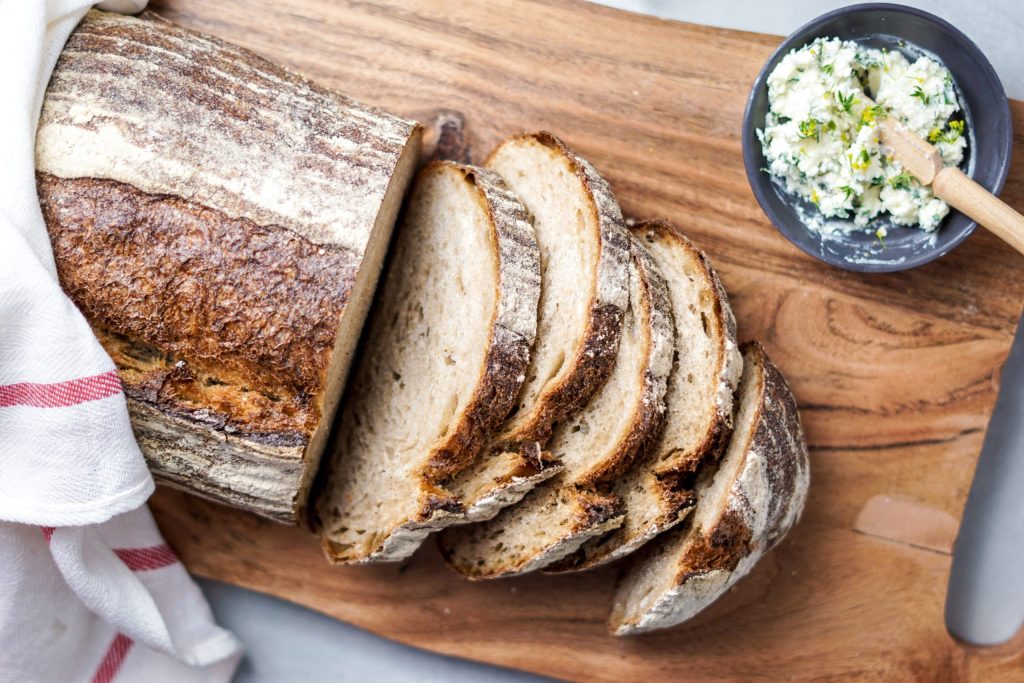 Wheat is not native to the region. It came to the Americas with Europeans. As Native Americans were pushed off their lands, colonists came west and began to plant crops they were comfortable with—wheat being one of the most common. Around the time that the house and barn at Cornman Farms were being built in the 1830s, wheat was spreading across the area's farmland. By the time the Deli's building was being completed in 1902—this month marks its 120th anniversary—Michigan was the leading wheat-producing state in the U.S. (For context, there were 45 states in the country at that time.) Over time, wheat production fell off and fruit-growing grew. In many ways, the True North is an effort to go back to what artisan bread might have tasted like had it been baked in a local farmhouse kitchen at the turn of the last century, made from what we now know as heirloom wheat that was freshly milled onsite.
The True North is made from wheat we get from Grand Traverse Culinary Flours in Traverse City. The stone-ground milling process they use leaves 80 percent of the wheat kernel—the bran, endosperm, and germ in the flour for great flavor, texture, and nutrition. Frank Carollo, now retired managing partner at the Bakehouse, says, "It's the most wheaty tasting bread that we bake. This naturally-leavened loaf is pure Midwest. We make it with high-extraction wheat flour made from hard red spring wheat from Janie's Mill in Ashkum, Illinois."
True North bread is terrific for toast. It's great, too, for grilled cheese—try it with the Prairie Breeze I wrote about last week from Iowa. I've also been using it to make one of the best club sandwiches I can remember: smoked chicken from those terrific Pit-Smoked Chickens from the Roadhouse on toasted True North, spread with a good bit of mayo, pile on some nice large pieces of the smoked chicken, then add some lettuce and tomato. It's great, too, with some of that cherrywood-smoked bacon we have right now from Nueske's, and a bit of avocado. Remember to add sea salt and fresh pepper to the whole thing! Super good.
Co-managing partner Amy Emberling says, "True North is now my go-to bread! Mild amount of sour, great moisture in the crumb, elevated flavor from the 80 percent extraction flour." The loaves with the darker crusts are, without question, my favorites—the Maillard effect caramelizes the natural sugars in the grain and makes for the most balanced, complex, and compelling flavors. Now that we've got it on hand every day, it's easier than ever to access. If you haven't yet tried the True North, now could well be the time to swing by and get a sample!
HUNGRY FOR MORE?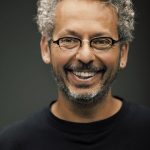 In 1982, Ari Weinzweig, along with his partner Paul Saginaw, founded Zingerman's Delicatessen with a $20,000 bank loan, a Russian History degree from the University of Michigan, 4 years of experience washing dishes, cooking and managing in restaurant kitchens and chutzpah from his hometown of Chicago. They opened the doors with 2 employees and a small selection of specialty foods and exceptional sandwiches.
Today, Zingerman's Delicatessen is a nationally renowned food icon and the Zingerman's Community of Businesses has grown to 10 businesses with over 750 employees and over $55 million in annual revenue. Aside from the Delicatessen, these businesses include Zingerman's Bakehouse, Coffee Company, Creamery, Roadhouse, Mail Order, ZingTrain, Candy Manufactory, Cornman Farms and a Korean restaurant that is scheduled to open in 2016. No two businesses in the Zingerman's Community of Businesses are alike but they all share the same Vision and Guiding Principles and deliver "The Zingerman's Experience" with passion and commitment.
Besides being the Co-Founding Partner and being actively engaged in some aspect of the day-to-day operations and governance of nearly every business in the Zingerman's Community, Ari Weinzweig is also a prolific writer. His most recent publications are the first 4 of his 6 book series Zingerman's Guide to Good Leading Series: A Lapsed Anarchist's Approach to Building a Great Business (Part 1), Being a Better Leader (Part 2), Managing Ourselves (Part 3) and the newly-released Part 4, The Power of Beliefs in Business. Earlier books include the Zingerman's Guides to Giving Great Service, Better Bacon, Good Eating, Good Olive Oil, Good Vinegar and Good Parmigiano-Reggiano.
Ari regularly travels across the country (and world) on behalf of ZingTrain, teaching organizations and businesses about Zingerman's approach to business. He is a sought-after Keynote speaker, having delivered keynotes for Inc. 500, Microsoft Expo Spring Conference, Great Game of Business Gathering of Games, Positive Business Conference at the University of Michigan Ross School of Business, American Society for Quality (ASQ), and the American Cheese Society. Most recently, Ari and Paul Saginaw were invited to address an audience of 50,000 for the University of Michigan 2015 Spring Commencement.
One of Zingerman's Guiding Principles is being an active part of the community and in 1988, Zingerman's was instrumental in the founding of Food Gatherers, a food rescue program that delivers over 5 million pounds of food each year to the hungry residents of Washtenaw county. Every year Zingerman's donates 10% of its previous years profits to local community organizations and non-profits. Ari has served on the board of The Ark, the longest continuously operating folk music venue in America.
Over the decades, the Zingerman's founding partners have consistently been the recipients of public recognition from a variety of diverse organizations. In April 1995, Ari and Paul were awarded the Jewish Federation of Washtenaw County's first Humanitarian Award. In 2006, Ari was recognized as one of the "Who's Who of Food & Beverage in America" by the James Beard Foundation. In 2007, Ari and Paul were presented with the Lifetime Achievement Award from Bon Appetit magazine for their work in the food industry. Ari was awarded the Lifetime Achievement Award by the American Cheese Society in 2014. And Ari's book, Building a Great Business was on Inc. magazine's list of Best Books for Business Leaders.
Notwithstanding the awards, being engaged on a daily basis in the work of 10 businesses and 21 partners, writing books on business and in-depth articles on food for the Zingerman's newsletter, Ari finds time to be a voracious reader. He acquires and reads more books than he can find room for. Ari might soon find himself the owner of the largest collection of Anarchist books in Ann Arbor outside the Labadie collection at the University of Michigan library!