This bread has been one of my favorites for nearly 19 years now, ever since the Bakehouse crew did the work to make this old-American recipe anew for what was about to become Zingerman's Roadhouse. Over the years, its following in the Zingerman's ecosystem gets bigger and bigger. I think it's been particularly tasty of late, which prompted me to put together this piece. If you're going on a picnic, making a sandwich, or just planning on having toast for breakfast tomorrow morning, give some thought to using some of this wonderfully delicious, old-American bread.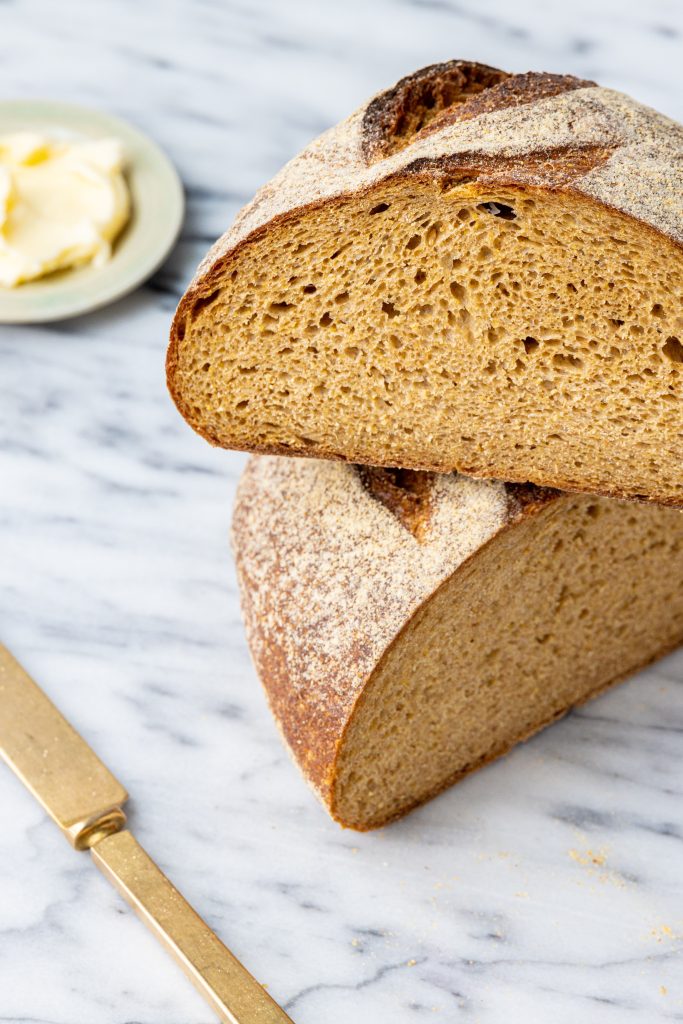 While what we call Roadhouse Bread was unfamiliar to us back in 2003, it was a very popular loaf amongst 18th and 19th century New Englanders. Back then, it was generally known as "Rye 'n' Indian" or also "Thirded" bread. Though you'll find a recipe for it featured in nearly every American cookbook from that era, for whatever odd reasons of historical trends, it fell completely out of fashion in the 20th century. (As far as I know, we're still the only ones in the country that bake it commercially.) As it would have been 200 years ago, Roadhouse Bread from the Bakehouse today is made with a mix of organic wheat, rye, and corn, subtly sweetened up with a bit of molasses.
The bread's history is, for better and for worse, a coming together of many of the streams of American history, culinary and otherwise. Its origins go back to early years of European presence in the Americas. Europeans were insistent on eating wheat, but since it wouldn't grow well in the cold climate of New England, colonists eventually gave in to reality and began to bake with indigenous corn, grown for thousands of years by Native people. British settlers also eventually turned to growing rye, which does better in colder climates (hence its wide use in Russia and Scandinavia). The loaves were typically sweetened with molasses, cultivated on plantations in the West Indies by enslaved people who were never paid for their hard work.
A few years ago, as part of the inspiring and insightful Grain Commission project, we began to mill our own rye berries (which we get from a farm in western Illinois) right here at the Bakehouse. That innovative work took an already great bread and made it better still. Fresh milling like this, we've learned repeatedly over the last few years, adds flavor and leaves natural nutrients intact. Studies are showing that this simple act makes an enormous difference in bread's impact on our bodies. It also improves the flavor and texture. There's just something more vital, livelier, a touch lovelier, and the texture seems to hold its moisture longer. (You can experience the wonderful benefits of the fresh milling, too, with the Roadhouse's move to making pancakes each morning with the Bakehouse's terrific spelt flour.) A few years ago, we raised the bar even further when we switched to use cornmeal from Janie's Mill in Askum, Illinois.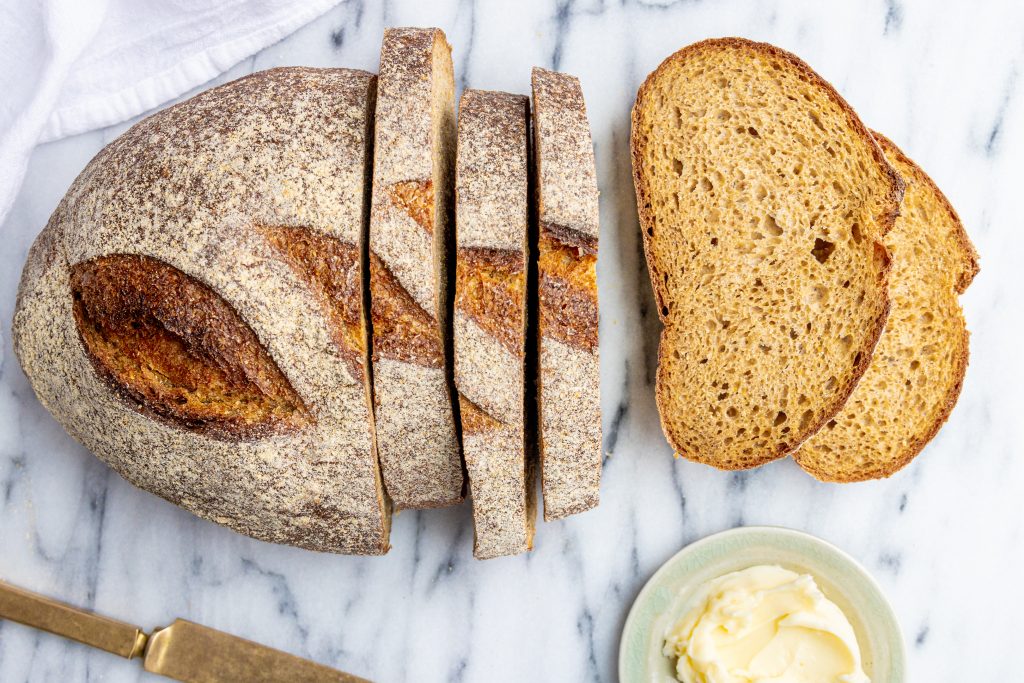 The Roadhouse Bread makes super marvelous toast—I love it with either the Creamery's cream cheese or fresh goat cheese. It's really good when you "double bake it"—put the whole loaf back in your oven at home at 350°F (unwrapped) for about 20 minutes. The crust gets crustier, the Maillard reaction works its magic, the sugars get sweeter, the crust gets darker, and the corn gets toastier. The Roadhouse Bread is on the totally terrific toast menu at the Coffee Company, where we serve it with Pimento Cheese from the Creamery. It's also on the Roadhouse's Southern Reuben—pulled pork served on grilled Roadhouse Bread with chalet Swiss cheese, sauerkraut, and Russian dressing. Try slices of Roadhouse Bread with the American Fried Bread on page 162 in Zingerman's Guide to Better Bacon, or use it for a grilled cheese. I love making croutons from it!
HUNGRY FOR MORE?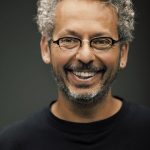 In 1982, Ari Weinzweig, along with his partner Paul Saginaw, founded Zingerman's Delicatessen with a $20,000 bank loan, a Russian History degree from the University of Michigan, 4 years of experience washing dishes, cooking and managing in restaurant kitchens and chutzpah from his hometown of Chicago. They opened the doors with 2 employees and a small selection of specialty foods and exceptional sandwiches.
Today, Zingerman's Delicatessen is a nationally renowned food icon and the Zingerman's Community of Businesses has grown to 10 businesses with over 750 employees and over $55 million in annual revenue. Aside from the Delicatessen, these businesses include Zingerman's Bakehouse, Coffee Company, Creamery, Roadhouse, Mail Order, ZingTrain, Candy Manufactory, Cornman Farms and a Korean restaurant that is scheduled to open in 2016. No two businesses in the Zingerman's Community of Businesses are alike but they all share the same Vision and Guiding Principles and deliver "The Zingerman's Experience" with passion and commitment.
Besides being the Co-Founding Partner and being actively engaged in some aspect of the day-to-day operations and governance of nearly every business in the Zingerman's Community, Ari Weinzweig is also a prolific writer. His most recent publications are the first 4 of his 6 book series Zingerman's Guide to Good Leading Series: A Lapsed Anarchist's Approach to Building a Great Business (Part 1), Being a Better Leader (Part 2), Managing Ourselves (Part 3) and the newly-released Part 4, The Power of Beliefs in Business. Earlier books include the Zingerman's Guides to Giving Great Service, Better Bacon, Good Eating, Good Olive Oil, Good Vinegar and Good Parmigiano-Reggiano.
Ari regularly travels across the country (and world) on behalf of ZingTrain, teaching organizations and businesses about Zingerman's approach to business. He is a sought-after Keynote speaker, having delivered keynotes for Inc. 500, Microsoft Expo Spring Conference, Great Game of Business Gathering of Games, Positive Business Conference at the University of Michigan Ross School of Business, American Society for Quality (ASQ), and the American Cheese Society. Most recently, Ari and Paul Saginaw were invited to address an audience of 50,000 for the University of Michigan 2015 Spring Commencement.
One of Zingerman's Guiding Principles is being an active part of the community and in 1988, Zingerman's was instrumental in the founding of Food Gatherers, a food rescue program that delivers over 5 million pounds of food each year to the hungry residents of Washtenaw county. Every year Zingerman's donates 10% of its previous years profits to local community organizations and non-profits. Ari has served on the board of The Ark, the longest continuously operating folk music venue in America.
Over the decades, the Zingerman's founding partners have consistently been the recipients of public recognition from a variety of diverse organizations. In April 1995, Ari and Paul were awarded the Jewish Federation of Washtenaw County's first Humanitarian Award. In 2006, Ari was recognized as one of the "Who's Who of Food & Beverage in America" by the James Beard Foundation. In 2007, Ari and Paul were presented with the Lifetime Achievement Award from Bon Appetit magazine for their work in the food industry. Ari was awarded the Lifetime Achievement Award by the American Cheese Society in 2014. And Ari's book, Building a Great Business was on Inc. magazine's list of Best Books for Business Leaders.
Notwithstanding the awards, being engaged on a daily basis in the work of 10 businesses and 21 partners, writing books on business and in-depth articles on food for the Zingerman's newsletter, Ari finds time to be a voracious reader. He acquires and reads more books than he can find room for. Ari might soon find himself the owner of the largest collection of Anarchist books in Ann Arbor outside the Labadie collection at the University of Michigan library!