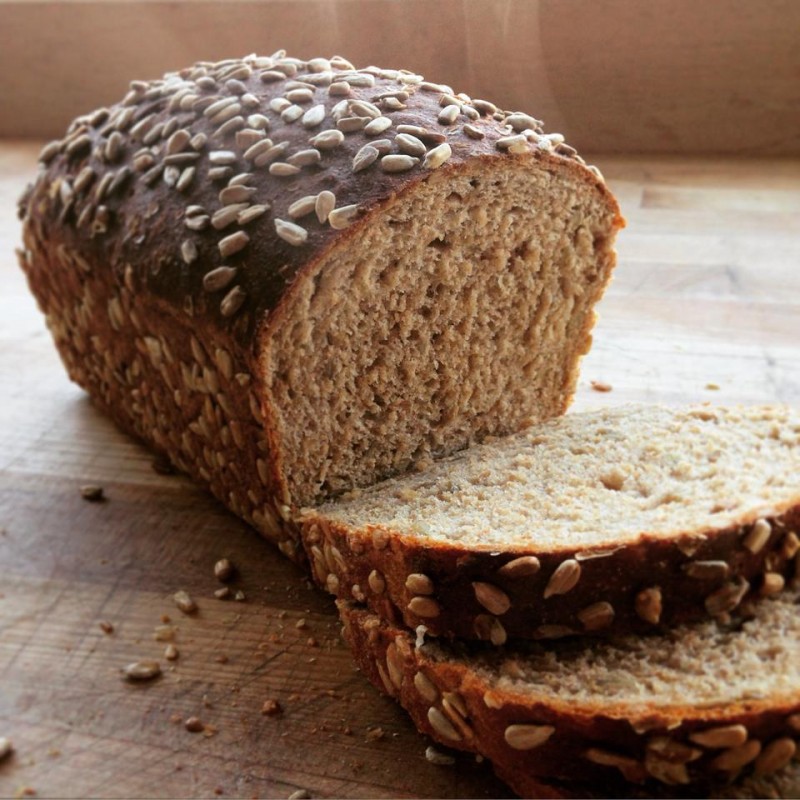 In the last six months at the Bakehouse, we've started to delve deeply into the world of grains – locally grown, ancient varieties, freshly milled, and more non-wheat varieties. Behind the scenes we've been doing research and recipe testing that will become more visible over the coming months. Get ready! Over the next few years we'll be sharing a lot of information about grains from stories about local farmers to milling information, to how to use them in baking and cooking. You'll see new breads and pastries from us and evolutions of some of our classics incorporating our new knowledge and preferences. We're excited and we hope you'll find it interesting and tasty, too.
If you're a regular you may already be aware of our past work with Westwind Milling, formerly of Linden, Michigan, and our current work with Bill Kouchy at Grand Traverse Culinary Flours who supplies us with both whole wheat flour and high extraction flour (not entirely whole wheat but with lots of the bran and germ in it) grown on the Leelanau Peninsula. He's also milling Turkey Red Wheat for us (a variety brought to America by Mennonites fleeing tsarist persecution in the early 1870s and widely grown until the 1940s) that was grown by Ed Hill in Xenia, Ohio. We've been using organic Michigan oats in some of our recipes and in the past we had local rye in our Jewish rye bread. Right now we're working collaboratively with Nancy Dupondt of Living Earth Farm who is growing rye for us in Sawyer, Michigan. As you can see, we've been working on this and now we're going to do even more.

What is the Bakehouse Grain Commission?
We enjoy naming things in unconventional and fun ways here at Zingerman's (for instance, we have a No Fun Manager at the Bakehouse who deals with government compliance issues—necessary, but not always fun) and this time we named the people doing the foundational work on grain research The Grain Commission. This name makes us smile because we don't look like what we imagine the folks on a grain commission would look like (I see suspenders for some reason…) and the name helps us focus our work. We're a small group of bakers, marketers, and our very own trained Ecologist, Hailey Schurr, working together to learn, educate and transform our baking with new knowledge.


Why are we delving even more deeply into the world of grains?
There are many reasons. The most obvious one is that we're bakers and grain is a basic ingredient in our daily work. Here are some other reasons:
Being even more traditional at Zingerman's, our food focus is on traditional foods and traditional techniques. Humans have used a wide variety of grains and have milled them using some sort of tool, as simple as a grinding stone made of basalt thousands of years ago in Mesopotamia, to modern day roller mills. We have been a little wheat-centric at the Bakehouse and want to delve into human history and explore other grains as well as milling methods. We've decided to expand our knowledge.
The second key characteristic of Zingerman's foods is that we aim for full flavor. Grains have lots of flavor especially when they're whole grain, freshly milled and baked properly. We want to make our breads and pastries even more flavorful and this work will help us achieve it. We're into continuous improvement. As we gain knowledge, we evolve and change our approach. Grains and Bread are taking a public shaming, Wheat, grains, gluten and carbohydrates in general are the foods to malign these days and frankly we're not in agreement. Generally through the food swings and diet fascinations of our country we just keep on with our mission and don't say much, waiting for it to pass. This time we're going to actively educate about the value of grains in our diets.


Basically, we've never believed in reductionist diets, those that eliminate a food category, like no fat, no sugar, no carbs… we've baked and persevered through them over the last 26 years! We understand that many of us are struggling to manage our weight and our subsequent health issues and that it can be appealing to eliminate a category of food. It's so clear, so simple, seemingly so doable…for a short term anyway. We know. We suffer from the same problems everyone else does and many of us have tried many of these approaches. It's also been proven that by eliminating any category of food we'll lose weight, so we get some positive feedback for these choices. The problem is that these diets are hard to maintain and often prove not to be healthier. Eating a balanced, moderate diet of non-processed foods, exercising, sleeping, reducing stress, not smoking, and consuming alcohol in moderation…is most likely the way to go, but this is a lot more complicated then just cutting out a food category.
Back to grains…We are fully sensitive and concerned for our community members who truly cannot eat these foods because of health reasons. We know this is the case. For the rest of us, grains, especially whole grains and freshly milled grains, provide lots of health benefits – vitamins, minerals, and CRITICAL fiber which we all need and benefit from. Thus, we have decided to educate more deliberately about the nutritional value of grains.
We'd also like to start communicating the importance of how grains are prepared. For instance, making naturally leavened bread, the way it was made until the 1850s ALL OVER THE WORLD for thousands of years, is a process of fermentation, which breaks down the proteins in the grains, making them more digestible. We stopped doing this on a large scale in our country in the 1930s with the introduction of Wonder Bread. Additionally, baking bread until it has a dark crust, which many people won't even taste, means that the flour is actually thoroughly cooked. Lightly baked bread made with lots of commercial yeast is not the optimal way to consume grain. We'll share more on this topic in the coming months. In the meantime, enjoy our darkly baked naturally leavened breads.
Digging deeper into local at Zingerman's, we've always been about being local–staying in the community and buying local. For soft wheat varieties this has been possible for our entire existence. Our brownies, for instance, are made with pastry flour from Ohio grain, milled in Grand Rapids. Most bread is made from hard red wheat. The tradition of growing this wheat in Michigan was lost many years ago. To reestablish it takes some concentrated effort and dedication. We decided many years ago to work on this and we're continuing to. Rye and oats and corn are grown in Michigan. We have and will continue to use these locally grown grains with the goal of using even more of them as their supply increases. We plan to ask local farmers to grow a variety of other grains. This increased biodiversity is commonly believed to support greater environmental sustainability.
There was also an impressive milling tradition in Michigan which lives on through a few wonderful mills. (We'll write about the history of Milling in Michigan in the future.) Even in 1992, when we started baking, there were some small mills. We purchased from The Daily Grind, which was located on Felch Street where the Ann Arbor Distilling Company is today. After a number of years they moved to Mason, Michigan, and we'd drive up there in one of our trucks to pick up a supply of grain. Then they closed. It's a tough business and they were perhaps a little ahead of their time. Possibly they were in between times. Whole grains were embraced by some of us in the late sixties through some of the seventies. The focus faded and now it's back. We then bought from Westwind Mill. Now we're buying from Grand Traverse Culinary Flour. We'd like to mill some of our own grains and support the development of other local millers.
Reduce, reuse, recycle! What does this look like in a baker's world? Refining grains and only using the refined portion is in many ways very wasteful. Essentially, most to all of the bran and germ are removed from white flour. Millers find second markets to sell this in but it's good food that we could all be eating. During World War II in England it became illegal to refine flour because of how wasteful it was. There has been a lot of concern in the professional food world about the amount of food thrown away in our restaurants and grocery stores. By using whole grains we're actively reducing this waste.
For our first many years we were working on our craft, just getting the basics down. Then we played with the basics and made new things, enjoying the flavor we could coax out of breads and pastries through traditional techniques. Then we studied Hungarian baking. Then we wrote a book. Now we know our basic craft quite well and want to dig more deeply into it and use the new information bakers are discovering to enhance our skills. As a community, we've also learned a lot of new things about health and nutrition since we opened in 1992 and we want to actively incorporate this learning into our foods. Using whole grains and freshly milled flour offers more flavor and also more nutrition. Seems like a great thing to work on!
We love to learn and play with our food. It changes work into a joyful exploration and that's what we're about! Choosing a focused lens to work through allows us to learn about a topic which could otherwise seem fully understood.
What's the Grain Commission Been Up To? Lots! We bought a mill, and sometime this summer we plan to begin to freshly mill some of the grains we use in our breads and pastries. We have ordered a 26" mill from New American Stone Mills in Wolcott, Vermont. This mill will be built by bread baker Andrew Heyn who started this business in 2015 out of a desire to make milling more accessible and practical for bakers. Andrew is happy to be building our mill as he grew up in Ann Arbor and went to Pioneer High School through 10th grade before his family moved to the Chicago area. He has many great memories of going to Zingerman's Delicatessen.
We have been using organic locally grown oats. They are in our oatmeal served in the weekday mornings at our shop. This is an All Michigan Oatmeal made with Michigan oats, Michigan Dairy and Michigan maple syrup. They are in our Big O cookies (along with Michigan Maple Syrup) and in our Country Scones.


We've been baking a large loaf that we call Country Miche. We've been loving the flour that we're getting from the Leelanau peninsula, so this bread features a good amount of what we call True North high extraction flour, with a hearty amount of rye flour, a bit of whole spelt and a bit of whole buckwheat. I'm finding it to be my favorite new bread of the past 15 years.


It's a sour dough bread but the sour dough isn't the dominant flavor that you taste. You really can taste the delicious combination of grains and because we're baking it super dark, the crust adds a deep caramelly finish. We've been baking them in 2 kilo loaves (as they would have been baked a couple of centuries ago) and even with the dark bake, they remain moist and flavorful for far more than a week.

If you're interested in how it's made, well, here's the story:
It has it's own unique starter which is fed and allowed to ferment for 12 hours or so. We autolyse the rest of the flours and water (it's an 83% hydration bread which means it's really wet) for two hours. Then add the starter and salt, a bit more water, and gently mix it for 2 minutes. We fold it three times at 30-minute intervals; allow it to ferment for an additional 2 ½ hours before dividing it. After a preshaping, it rests for 30 minutes or so, gets a gentle final shaping and then into the large baskets where it is allowed to get it's final fermentation before baking. It's baked for a bit more than an hour at about 450º. Then it needs to cool for a couple of hours, or ideally, overnight. Then slice it and enjoy! You can purchase a whole loaf, half loaf or a ¼ loaf at our Bakeshop, at Zingerman's Delicatessen, or the Zingerman's Roadshow.  


For our Turkey Red Walnut bread we're starting with Turkey Red wheat flour (hard red winter wheat) from the Hill Family Farm in Xenia, Ohio. It's then stone-milled in Traverse City. Our recipe is made with a unique sour dough starter, gently mixed with the addition of some toasted California walnuts, shaped and then goes through a lengthy cold overnight fermentation. This long overnight fermentation adds to the digestibility of the wheat and the ability of our bodies to absorb all the nutrients. The addition of the toasted walnuts adds a pretty purple color to the crumb and a delicious savory flavor.


Margaret's Sweet Wheat Bread is back and better than ever and now made with Michigan whole wheat from the Leelanau Peninsula, Michigan honey, and Michigan buttermilk.


We have started baking new pastries and tweaking current recipes to include freshly milled whole grains. We've been wowed by our whole grain sweet cream biscuits and einkorn scone test bakes. Incredible flavor and still a light, appealing texture. Watch for them this summer at the Westside Farmer's Market.

We're making two types of grain salads for our shop. Both include freshly cooked Michigan Hard Red Wheat Berries. One is served with a tangy dressing, tomatoes, and sugar snap peas. It's already a staff favorite. The second is a classic Niçoise salad made with tuna, hard-boiled eggs, and green beans. Rather than the classic addition of potatoes we've included wheat berries.


This fall at BAKE! we'll be offering a lecture series focused on grains. A Mesopotamian archaeologist will educate us about the domestication of grains, milling, and baking methods in the ancient world. A biologist who became an avid home miller and developed a now large business based on grains and milling will come and tell us about the health virtues of grains and fresh milling. We'll then look into the history of our own state and hear about the early years of the Kellogg Company.
 
By Amy Emberling, Bakehouse co-owner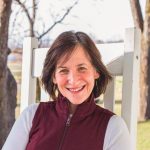 She has been an avid food lover and baker since her childhood in Nova Scotia, Canada. After high school Amy moved to Cambridge, MA and received her bachelor's degree from Harvard University. She then followed her passion for food and learned to cook and bake at L'ecole de Gastronomie Francaise at the Ritz Hotel in Paris, France as well as in Michigan restaurants. In 1999 she received her MBA from Columbia University.
Amy came to Zingerman's Bakehouse when it opened in 1992 as one of the original bakers on the staff of eight. She soon became the first manager of the bread bakery, then the manager of the pastry kitchen and in 2000 she became a partner.
Amy has been working in the food world for over 20 years and is passionate about hands-on baking, teaching about baking and business, developing businesses and people. As well as teaching at BAKE! Amy presents for ZingTrain on our business practices. A few of the Bakehouse items she is personally responsible for developing are the Old School Apple Pie, Buenos Aires Brownies, and our Gingerbread Coffeecake. In addition to developing items, Amy is a promoter of classic bakery favorites from many cultures and has brought traditional standards to the Bakehouse such as Paris Brest, Hummingbird Cake, and Maple Cream Cookies.