Lángos, deep-fried flatbread eaten with a variety of toppings like sour cream and dill or cheese and ham, is Hungary's most popular street food.
Who doesn't love fried dough? Hungarians certainly do. There are lángos stands in many food markets and they are regular features at street fairs and public events. It's common to see people standing at counters eating hot fried dough mounded with an amazing combination of meat, cheese, and vegetables. Some lángos dough is very simple: water, flour, salt, and yeast. A slightly more complicated version includes mashed potatoes and sometimes even chopped cabbage. Ours is made with potatoes.
Lángos didn't start as a fried treat made in a public setting. It was originally a snack made at breakfast time on bread making day in traditional Hungarian homes. The bread dough was mixed, a fire was started in the wood-fired oven and then small pieces of the proofing dough were baked near the flames. It was a morning treat, to sustain the bakers and probably their children, while the bread-making process continued.  It's been a long time since most Hungarian homes baked their own bread and as that tradition faded lángos evolved into a fried street food.
Expect to eat lángos soon after it's fried. At most lángos stands you'll have a choice of many toppings plus the opportunity to brush your warm dough with garlic water.
At Zingerman's Bakehouse, our Lángos is brushed with garlic and sour cream, sprinkled with fresh dill, topped with Hickory Smoked Ham, Marieke 1-year Gouda cheese, and a dusting of Hungarian paprika!
Available on Tuesdays and Saturdays from 11:00 AM to 1:30 PM.
---
by Amy Emberling, Zingerman's Bakehouse co-owner, baker & Hungarian traveler
–Take our Lángos making class
–Learn more about our Hungarian foods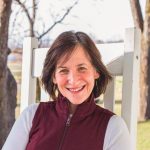 She has been an avid food lover and baker since her childhood in Nova Scotia, Canada. After high school Amy moved to Cambridge, MA and received her bachelor's degree from Harvard University. She then followed her passion for food and learned to cook and bake at L'ecole de Gastronomie Francaise at the Ritz Hotel in Paris, France as well as in Michigan restaurants. In 1999 she received her MBA from Columbia University.
Amy came to Zingerman's Bakehouse when it opened in 1992 as one of the original bakers on the staff of eight. She soon became the first manager of the bread bakery, then the manager of the pastry kitchen and in 2000 she became a partner.
Amy has been working in the food world for over 20 years and is passionate about hands-on baking, teaching about baking and business, developing businesses and people. As well as teaching at BAKE! Amy presents for ZingTrain on our business practices. A few of the Bakehouse items she is personally responsible for developing are the Old School Apple Pie, Buenos Aires Brownies, and our Gingerbread Coffeecake. In addition to developing items, Amy is a promoter of classic bakery favorites from many cultures and has brought traditional standards to the Bakehouse such as Paris Brest, Hummingbird Cake, and Maple Cream Cookies.