Here at Zingerman's Bakehouse, we have taken the phrase "eating local" to heart with the dawn of our Michigan Chestnut Baguette (among other things). The history of chestnuts at the Bakehouse goes back nearly 50 years. Bakehouse Co-Founder, Frank Carollo, has been eating chestnuts for many years. It was a common food at the holiday table for Frank as he was growing up in an Italian-American family.
But, let's start at the beginning of the journey- of how Frank's history with chestnuts, his passion for local food and the exploration of Hungarian food culture led to the birth of the Chestnut Baguette.
 
The hunt for local flours
The idea of using Michigan flour in our breads is not a new one. Co-founder of the Bakehouse, Frank Carollo, has made "local" grain part of our mission over the past decade. Years ago, he began scouring the Michigan countryside looking for farmers growing wheat flour we needed for some of our breads. It has been a tough road to find a consistent quality level and supply but we have had some small successes. Among others, locally-milled flour from Michigan-grown chestnuts was on that list.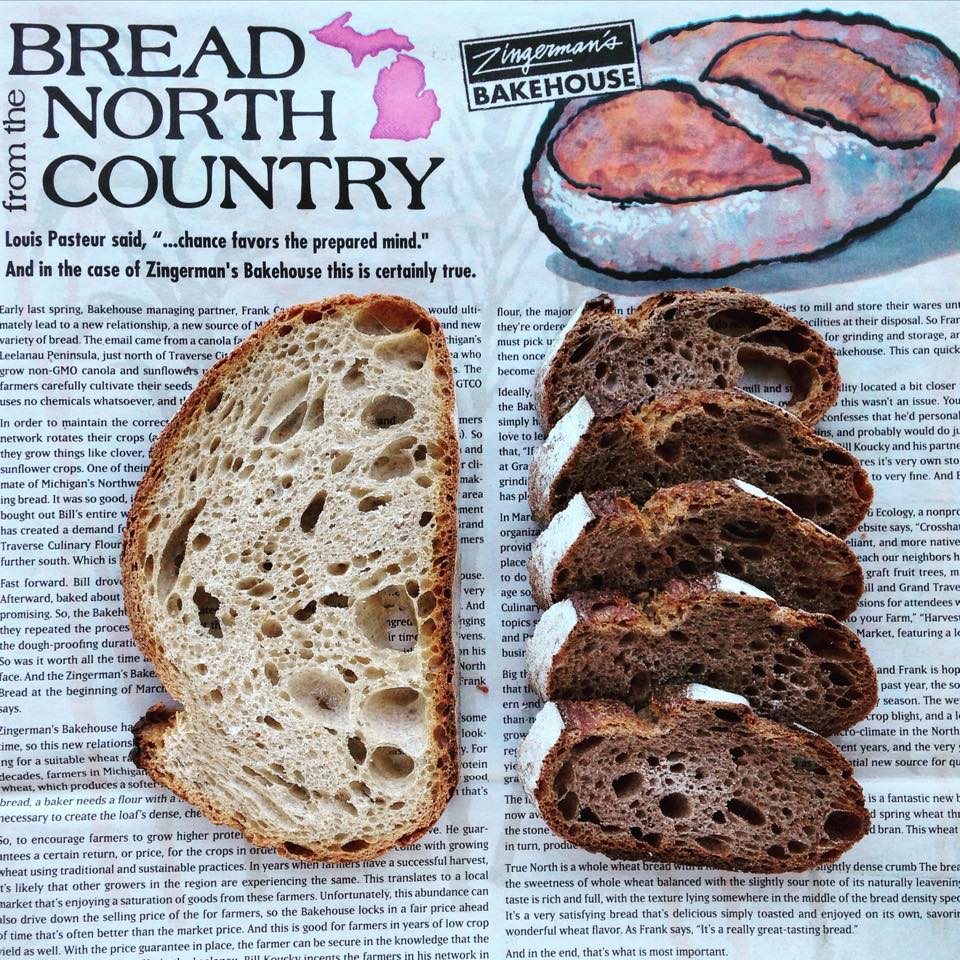 Zingerman's Bakehouse brings Hungary to Ann Arbor
During this time, Frank, with Amy Emberling, co-owner of the Bakehouse, were traveling to Hungary to learn more about its cuisine and baking history. Hungary has a rich food tradition that Amy thought would compliment many of the cakes and pastries we already offer. So, throughout 2011 and 2012, they traveled there to research traditional Hungarian recipes and, of course, give them a try. While in Hungary, they discovered many Hungarian recipes utilize chestnuts and it was a popular flavor.
Chestnuts at Zingerman's Delicatessen
Meanwhile, over at Zingerman's Delicatessen, Rodger Bowser had already established a relationship with chestnut growers here in Michigan. These growers, fittingly named Chestnut Growers, Inc. (CGI), were providing him with chestnuts for his take on marrons glacés (a confection that consists of a chestnut candied in sugar syrup and glazed). In more recent years, the Delicatessen has been selling roasted chestnuts during the holiday season.
Chestnuts at the Bakehouse
We first tasted chestnut bread in 2003 when Shelby Kibler returned from a baking trip to France. We instantly fell in love with the flavor, texture, and unique color of the bread. A decade later we decided to get back to it. Good things come to those who wait, right?
Frank's on-going search for locally-sourced flour. Frank and Amy's travels to Hungary. Rodger's work with Michigan-grown chestnuts. The inspiration to incorporate chestnuts into some Bakehouse recipes emerged.
We began working with CGI in Fall of 2014, purchasing chestnut flour. They grow the chestnuts for us, and then their sister company Treeborn mills them in this unique (and flavorful) chestnut flour. Not only is CGI a local company, they do not genetically modify their chestnut trees. Everything they grow and sell is always all-natural. Not to mention, Michigan-grown chestnuts are among the sweetest in flavor. Whether roasted, used in a recipe or milled into flour, they pack a flavor-filled punch.
The Chestnut Baguette is born
Thus, we began using chestnut flour, experimenting and playing with different recipes until we found one that was, well, our favorite. The Chestnut Baguette recipe, itself, actually originated from the ovens in our hands-on baking school, BAKE!. After months of testing and modifying the recipe (with rave reviews), we instantly knew. Knew that this recipe was one for the books, not to mention the shelves of our shop.
A brand new bread had arrived at the Bakehouse, one packed with a nutty and rich flavor.
How do we make it?
We use the chestnut flour from Treeborn, as well as wheat flour, both grown and milled at Grand Traverse Culinary Flours in Traverse City. This naturally leavened bread itself consists of just a few ingredients—chestnut flour, wheat flour and sea salt. From start to finish, it takes right around 6 hours to bake.
After it's been pulled out of the oven, the Chestnut Baguette has a beautiful and thick crust. Once you cut into it, you will discover a rich tan and purple crumb. If you are looking for a photogenic bread, this one is it! Pull out your phones and get ready to Instagram that beautiful bread on your cheese board.
Anything that looks THAT good has to taste good, too? Right? Well, our Chestnut Baguette certainly does. It is rich, nutty, slightly sweet and full. It pairs perfectly with an array of cheeses, meats, spreads, wines… the list goes on. Let us know how you enjoy it.
Amy Berger, longtime staffer in our bread bakery, sings the praises of chestnut baguette, sliced with fresh goat cheese from our next door neighbor Zingerman's Creamery.
You can find it…
You can find the Chestnut Baguette at the Bakehouse, fresh from the ovens at noon on Fridays, Saturdays, and Sundays. It is also available at Zingerman's Delicatessen.
Don't live in Michigan? Want to share the chestnut love with your family across the country? Well, Zingerman's Mail Order ships our Chestnut Bread. Same recipe, different shape (imagine trying to mail a baguette).
Natasha Mason, Zingerman's Bakehouse