There's something rather romantic about really good chili powder: Chilies from far-reaching regions across the globe, perfectly dried and ground to make a fragrant, flavorful concoction. A smoky, spicy, slightly sweet aroma rising from the jar as soon as you twist it open. A deep, saturated burnt sienna hue, red and fiery to match its flavor.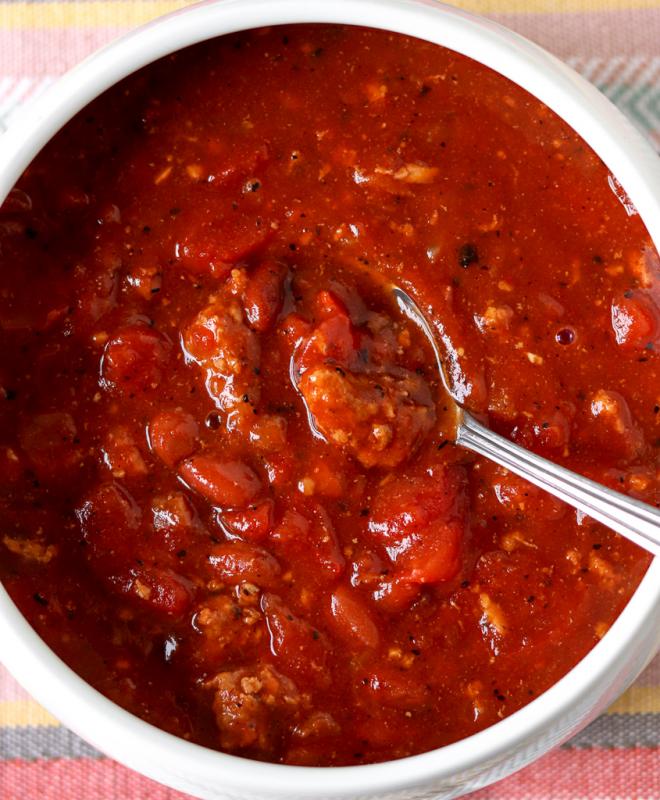 It's easy, though, to feel disconnected from the little jar of red powder sitting in our spice cabinet when we pick it up at a big-box store. All too often it's filled with flat-tasting dust from nondescript peppers. It's there; it's vaguely reddish; it's been there to flavor many a pot of chili. But a good chili powder, thoughtfully sourced and artfully blended, is a complex work of art.
Our Turkey Urfa Chili gets its smoky, spicy flavor from Urfa biber, a dried Turkish chili pepper from the Urfa region of Turkey. It's truly something to behold: a deep burgundy, almost black, with a surprising, unique flavor that strikes a perfect balance between smoky, salty and sweet. It begins with the Isot pepper, a bright red chili that looks a bit like an elongated red bell pepper. After harvest, the pepper is partially dried in the sun, then left under tarps to oxidize and ferment.
Just picture it: rolling hills blanketed with bright white tarps and deep red chilies drying in the low autumn sun. We could wax poetic about this spice all day. We get ours from our friends at Épices de Cru, and we're smitten with its fruity, chocolatey heat. It's similar to Aleppo pepper in many ways, with raisin-like notes that start singing upon first sniff.
Maybe we're biased, but one of our favorite ways to enjoy Urfa biber is in a big, steaming bowl of our Turkey Urfa Chili. We make it with a heaping scoop of those purpley-red chili flakes, plus some green chile powder to add some complexity. We serve it up in our Bakeshop every Thursday, and it's a guest favorite for good reason. But if you find yourself craving it on any other day of the week, you're in luck, because we're sharing the recipe with you! Take one bite of that Urfa-perfumed chili, and you'll be transported to the hills of Turkey.
Turkey Urfa Chili
| | | |
| --- | --- | --- |
|  Canola oil |  2 Tbsp |  25 g |
|  Diced onion (1/4 inch [6 mm]) |  1 ½ cups |  170 g |
|  Ground turkey |  16 oz |  454 g |
|  Minced garlic (3 cloves) |  1 Tbsp |  25 g |
|  Ground cumin |  2 ½ tsp |  7 g |
|  Green chile powder |  2 ½ tsp |  7 g |
|  Urfa pepper flakes |  1 ½ Tbsp |  13 g |
|  Sea salt |  1 Tbsp |  13 g |
|  Ground black pepper |  1 tsp |  2 g |
|  Kidney beans, drained |  3 (15-oz) cans |  1,275 g |
|  Diced tomatoes (canned) |  1 (28-oz) can |  795 g |
|  Crushed tomatoes (canned) |  1 (28-oz) can |  795 g |
|  Sour cream for topping | | |
|  Sour cream for topping | | |
In a large stockpot, heat the oil and sauté the onions over medium to low heat until they are translucent. Add the ground turkey and minced garlic. Stir frequently and actively break up the turkey to avoid clumping. Cook the turkey completely. Add the cumin, green chile powder, Urfa pepper, salt, and pepper. Stir to incorporate the spices and cook over low heat for 2 minutes.

Add the beans and both kinds of tomatoes. Mix well. Bring to a simmer and cook for 30 minutes. Stir frequently to avoid scorching. Serve hot in bowls with sour cream and chopped green onions as tasty garnishes.
By Emily Hanka, Bakehouse Marketing Manager
Recipe from Zingerman's Bakehouse by Amy Emberling & Frank Carollo, Chronicle Books (October 3, 2017)