One of the best parts about summertime on the Zingerman's Cornman Farms property is the bounty of fresh herbs growing in the Chef's Garden. One of my absolute favorite ways to spruce up a lazy summertime meal is to add a dollop of basil pesto.
We make our pesto with basil grown on the property as well as some grown by our friends at Raising the Roots farm. Picked at its prime and blended with Parmigiano Reggiano Stravecchio, pine nuts, apple cider vinegar, and olive oil, our fresh pesto is bursting with flavor. 
If you're looking to whip up a light meal, I recommend toasting a Zingerman's Bakehouse Zinglish Muffin, adding a dollop of pesto, a slice of Zingerman's Creamery mozzarella cheese, and drizzling with balsamic vinegar. If you want to take it to the next level, add some grilled chicken breast and fresh tomato slices.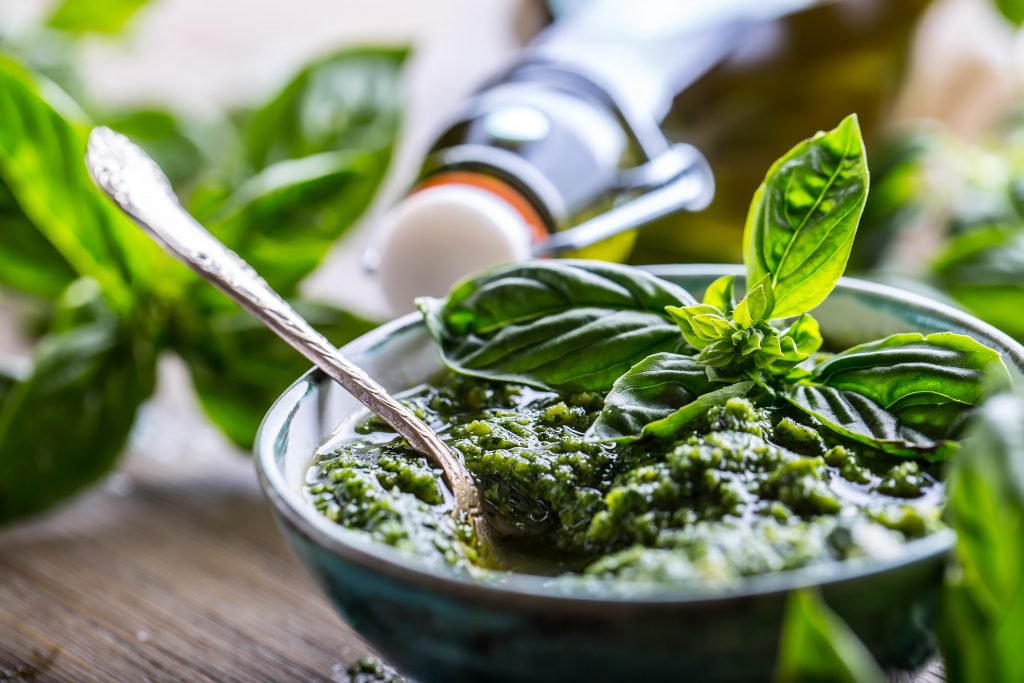 Try the recipe below or pick up some Cornman Farms pesto at Zingerman's Creamery today!
Basil Pesto
Ingredients
1

cup

olive oil

4

cloves

garlic

1

teaspoon

salt

1/2

teaspoon

pepper

1

teaspoon

cider vinegar

2

anchovies (optional)

4

cups

basil leaves, firmly packed

1/3

cup

pine nuts, lightly toasted

1

cup

Parmigiano Reggiano, finely grated
Instructions
In a blender, Vitamix, or food processor, combine the oil and garlic.

Once garlic is well chopped, remove half of the mixture and put it aside.

Add salt, pepper, and cider vinegar to the blender bowl. (You can also add anchovies at this point if desired.)

Add 1/2 of the basil and blend until the basil is well incorporated. Continue to blend for a further 20 seconds. (Tip: For greener pesto, blanch the basil leaves, ice and drain prior to making the pesto!)

Add the second half of the basil. As you mix on full speed, slowly add the reserved garlic and oil mixture.

Add the pine nuts and blend until well-incorporated, then continue for an additional 20 seconds.

Remove pesto from the blender and put into a mixing bowl. Fold in the finely grated Parmigiano Reggiano.

Salt to taste and chill until use.