Our annual classes for Fancy Schmancy Holiday Cookies (FSHC) are a special place for students to come together to prepare for celebrations with their friends and families.  For me, they are extra special as each year they mark my anniversary as a BAKE! Instructor—this will be my third year!
One of my favorite parts of being an instructor is getting to develop new classes and recipes, like fancy schmancy cookie recipes—this is the 11th year of FSHC classes and we haven't repeated a cookie yet! Students often ask us how we choose the cookies (and if we need volunteer tasters!), so I wanted to share a little bit about how that process works.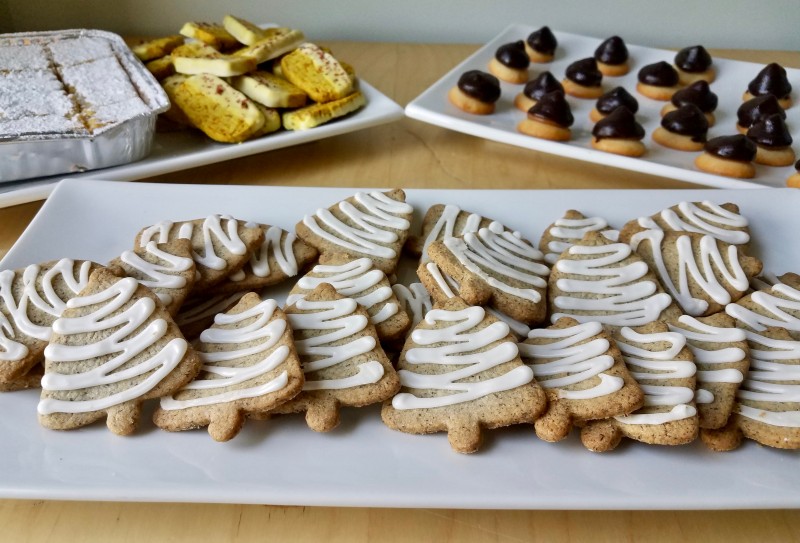 I typically start the search for the next year's inspiration while we are in the midst of the FSHC classes because that is when the very newest holiday cookie recipes begin to appear in magazines and on blogs. I also like to research the traditions of other countries in the world that celebrate holidays in November and December, as well as think about time-honored flavors that people may know and connect with their own families. The challenge each year is to come up with fresh, tasty updates on classic holiday cookies that people will enjoy and find cookies we haven't covered before.
Pastry chefs in restaurants use the following guideline for dessert menus: chocolate, fruit, nut, and a wild card. I try to develop our FSHC lineup along those same guidelines and think about flavors that go beyond gingerbread or snickerdoodles. There are a few questions I ask as I start considering which recipes to start testing:  
Is the cookie doable in a classroom setting?

Does the recipe introduce new skills?

Is the flavor profile appealing? Does it fall into one of our flavor guidelines?

Will it be freezable for those students coming to class at the end of November?

Is there special equipment required?
Once we have started testing recipes the tastings begin. Each week, our department meets and we have tasting time. Everyone gets a say, including Frank and Amy our managing partners.  We continue baking and testing until we reach our final four cookies. (We know, it's a tough job, but someone has to do it!)
Here are the ones that we're featuring this year:
Buckwheat Sablé: A very tender traditional French cookie made with flavorful buckwheat flour that's rolled out, cut into shapes, and drizzled with vanilla glaze.

Passionfruit Einkorn Bars: A flaky pastry crust made with einkorn, an ancient wheat variety, and flavorful exotic passionfruit custard.

Merry Masala Cookies: This cookie is a play on a Gujarati snack from India. It's a grated carrot cookie that's subtly sweetly spiced, that's sliced, baked, and dipped in white chocolate and sprinkled with ground pink peppercorns.

Sarah B's: A bite-sized almond meringue (gluten-free!) cookie topped with chocolate french buttercream, dipped in dark chocolate and sprinkled with sea salt. This romantic French cookie is the namesake of 19th-century actress Sarah Bernhardt. 
And here are a few that didn't make the cut this time:
Lebkuchen: we already made this cookie a few years ago

Zimsterne: it was too similar to lebkuchen

Cafe de olla shortbreads: they weren't fancy enough!
Once we select the final four cookies, we check how the cookies hold up to storage and freezing, and write up the recipes for the student guide. Then, one of us takes home the ingredients and bakes them all at home to make sure we have everything correct, and finally, we hold a trial run of the class with staff to make sure everything runs smoothly and works the way it should. Accuracy is critical—we want to ensure home bakers will get the same results we get at BAKE! It's a lot of work but it's also a lot of fun. 
Unfortunately, all of the FSHC classes are sold out for this holiday season, but if you want to get a jump on next year's classes, sign up for the BAKE! newsletter (head here and scroll down, you'll find it near the bottom on the right-hand side)—the next cookie class schedule will be released in June 2019.
By Sue Chagas, BAKE! instructor