When I first started working here almost a year ago I was incredibly excited to see Irish Brown Soda Bread was included in our baking roster. I set a reminder in my phone to have some sent to my Grandma Zelna in Virginia Beach through Zingerman's mail-order during the next special bake. After I started working here my Grandma specifically asked my Dad if the bakery made Soda Bread because she missed her Mom's, so it was a pretty big deal to get to send her a loaf!
I waited for a full report on how the bread went over and she said, "It's just delicious like my mothers, but the crust is a little hard." To be fair to the bread, she was 81 years old. Most foods were a little hard to my Grandma. Irish Brown Soda Bread to me, is more than just bread, it's a connection to my family spanning hundreds of years.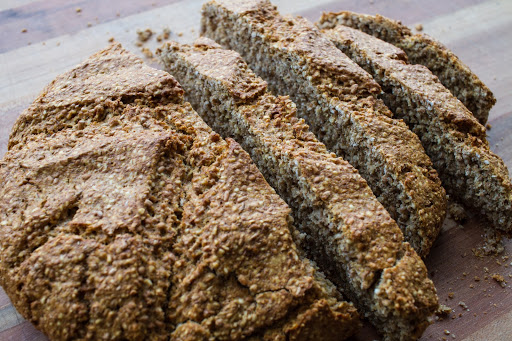 John Patrick Coyne, my Great Great Great Grandfather, owned the family coal mine in Galway, Ireland. The post-Great Famine world in Galway was one tainted with sadness, and there was much civil unrest in the country. If you're not familiar with the Great Famine, it was when a fungus killed off Ireland's most prominent crop, potatoes. The Great Famine left the island with one million dead, and sent another million people fleeing the starving country. This left the island's politics, population, and culture forever altered. This tragedy also helped shape the future of bread in the region. Bread became a staple in homes lucky enough to have food across the country. A hearty bread like Soda Bread that was relatively easy to make and had few ingredients was a favorite!
John left behind his life in Ireland from the aftermath of the Great Famine, to come with a wave of Irish immigrants through Ellis Island in the 1890s. Like many Irish immigrants, he came to America looking for opportunity, and a better future for himself and his future family.  He went on to work as a bricklayer, served in World War I, moved to Ohio, and eventually married an Irish woman, Bridget Gajen. Together they had 8 children, including my Great Grandma Constance Margaret Coyne aka my family's famous Irish Brown Soda breadmaker!
The Coynes- 1928
My Grandma was the military wife and mother of 5 that lived across 3 countries in her life. Unfortunately, she was not a big baker, she was more about meals of convenience for her busy family. So sadly I did not learn how to make the family soda bread. Though having never tasted my families version of soda bread, I can still picture the Coyne family in their cozy home in Ohio, sitting around the table enjoying a warm slice of fresh soda bread and hearing about John and Bridget's lives in the old country. I can see Bridget teaching my Great Grandma Connie how to make the bread that would feed her future children, and allow them to feel a connection to the long history of their family. Because something as simple as a slice of soda bread with its complex texture, wonderful crumbly interior, and warm colored brown crust, could take my Great Great Great Grandparents back to the rolling green hills, and whitewashed stone houses of Galway. It allowed them to remember their lives before they came to America. That connection to their history, and mine, is something powerful and truly wonderful, and I think it's something to be celebrated!
Knowing where I came from, and feeling a connection to my history through food is a vital thread that will keep me connected to my family always. It's important for me to remember the sacrifice my Great Great Great Grandparents made leaving their home for the future of their family, that's roots eventually spread far across the country and end up leading to me. I am left with the important job of carrying on their memories and keeping the connection to our history going by sharing their story and their connection to the humble Irish Brown Soda Bread. So this St. Patrick's day I'll remember my family, and be thankful for this unique connection I have to the past through a simple slice of warm Irish Brown Soda Bread.
Zingerman's Bakehouse Irish Brown Soda Bread (pictured) is baked fresh daily March 1st-17th each year. Don't miss your chance to try it. We've fine-tuned this recipe for years and really created something special. The key is the whole meal flour (what we call whole wheat here in the states) and stone-milled Irish oats we import from Ireland. It also has some local Guernsey Farms Dairy buttermilk, baking soda, and sea salt. It's a whole grain bread with astounding flavor and satisfying texture. Try a slice with some Irish Kerrygold butter or fresh cream cheese and smoked salmon. Bread fans look forward to it all year!
Written & Photographed by Kelly Zelna, Zingerman's Bakehouse