I love vanilla! I did drink some as a child and it's one of my earliest baking memories. What a disappointment. 
And so, buoyed by my fondness for the bean and inspired by a BAKE! student's query, I decided to do a vanilla experiment. I bought three different types of vanilla beans (three of each kind) from Beanilla: Mexican, Tahitian, and Papua New Guinea. I chose these three based on availability on the website and my curiosity about types of vanilla that I had less familiarity with. I bought three 4-ounce bottles. I split, scraped, and stuffed two vanilla beans into their own respective bottles. I filled them with Grey Goose vodka and put them on a shelf in a cool dark place. I left them mostly alone for two months, shaking them once a week or so. 
Some vanilla facts while we wait for them to steep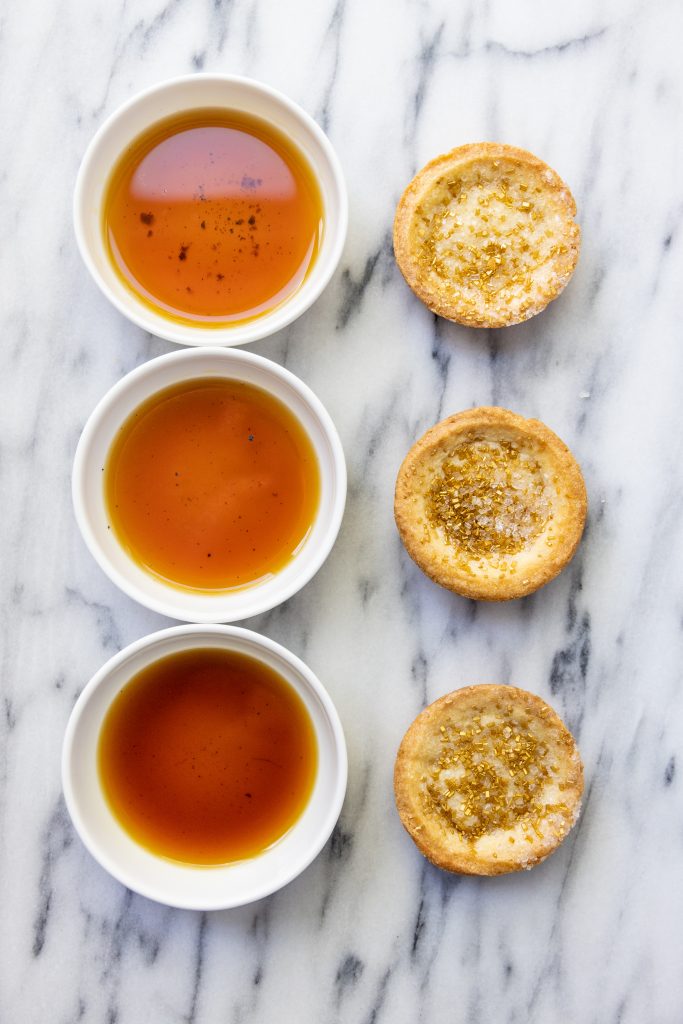 If you've purchased vanilla beans or real vanilla extract lately, you know that they can be pricey. Part of the reason why vanilla is so expensive is the time and energy it takes to grow vanilla beans. One orchid produces a single vanilla bean, the flower must be hand-pollinated and can take three to five years for the orchid to give us that one vanilla bean. 
Most of the world's vanilla comes from Madagascar, where it grows in the tropical rainforest regions. A few years ago, The New York Times published this fascinating and informative article on vanilla and the role it plays in the country.  Nowadays, vanilla is being grown all over the world and websites like Beanilla sell a variety of different varieties with flavor profiles that rival fine wines. 
What was I hoping to discover?
I wanted to see if there were any huge differences in flavor. I picked up my copy of Dorie's Cookies by the most amazing Dorie Greenspan (a favorite of ours and currently being profiled by our BAKE! students as they bake and test their way through some of her recipes) and decided on a recipe that had the most vanilla I could find: her French Vanilla Sables. A sable is a sandy, crumbly cookie with a melt-in-your-mouth texture and a not-too-sweet taste. With 2 teaspoons of vanilla for 30 cookies, I figured I had my shining star.
(A sable aside: Dorie also wrote one of my favorite cookbooks of all time with Pierre Herme, Desserts by Pierre Herme; his sable recipe has a hard-boiled egg in the dough which still blows my mind in terms of final texture.)
I made (and ate a good amount of) the dough in three separate batches. I got some shiny sparkly sugar for decorating and baked a round of each cookie in muffin tins in the oven. I labeled them 1, 2, and 3 and asked for taste testers and feedback among the Bakehouse staff. 
Taste-tester cookie feedback
Cookie #1 (Tahitian): 
My favorite (but hard to tell the difference among the three)

Solid flavor!

Best flavor, most appealing (8/10)

My favorite!

Really bright and nice

Fullest flavor with almond [Side note: there is no almond in this cookie]
Cookie #2 (Mexican): 
Love the balanced flavor

Strongest smell (but second in flavor: 6.5/10)

Similar to the others
Cookie #3 (Papua New Guinea):
Definitely my favorite

A little too understated

Most flavorful

Most delicate flavor
The results? 
Tahitian for the win. 
In all honesty though, if you didn't know there was a difference or unless you were a supertaster, you wouldn't know. While the three vanillas smell distinctly different, those differences didn't translate over to the cookies. Although I chose a recipe with a lot of vanilla in it, there might be other recipes that would showcase the vanillas more dramatically (infusing scraped vanilla beans into a vanilla ice cream or creme brulee base, for example).  
I found the differences more pronounced in the dough than in the cookie itself, which makes some sense as the alcohol in the vanilla didn't have the chance to evaporate in the oven. 
Overall, it was fun.
Hungry for More?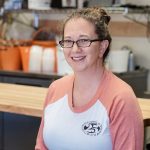 BAKE! Principal and Instructor
At the age of 4, Sara climbed on the kitchen counter to 'taste' vanilla extract. Disappointed by the taste (how could something that smelled so good taste so bad?), she was caught by her mother and had to sheepishly explain what she was up to. Fast forward ten years and Sara was selling homemade sandwiches and cookies to her friends at lunch and still running lemonade stands with her best friend. This love of all things food, and especially baking, led Sara to the Culinary Institute of America where she got her degree in baking and pastry arts. She baked and cooked her way across the country, working everywhere from NYC to San Francisco, Atlanta, Alaska, North Dakota, and even Cambridge, England.
Sara received her master's degree in hospitality management from Cornell University, where she helped teach and develop curriculum for an undergraduate restaurant course. After years of wondering how Zingerman's made their deliciously perfect Cosmic Cakes, she is thrilled to be a part of the team and learn the secrets to pass on to BAKE! students.