Smells, more than anything else, can stir up strong and usually fond memories from my childhood, mostly associated with food. I cherish that. Growing up as a little kid, I would eat a bowl of warm milk for breakfast with pieces of white bread and sugar, turning into a sweet, comforting mush. I loved it. When I started working at the Bakehouse and took on the daily tasting of the breads, the aroma of Paesano reminded me of the initial stages of that warm bowl of milk and bread from my childhood.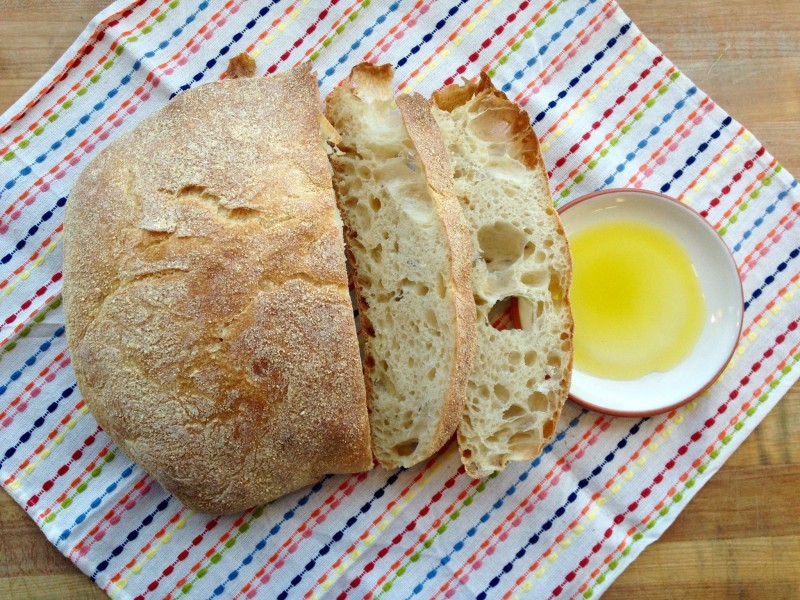 Now, our Roadhouse bread has already become a new bowl-of-warm-milk-and-bread memory for me. That distinct flavor excites my taste buds so much that, one day in the future, I can only hope – besides eating the bread itself – aromas and smells will come up in my life that will remind me of this bread.
I love excellent food and I want my breads to be excellent too. When the flour or the grain is fully hydrated (just like you would cook your rice in the proper amount of water), naturally fermented long and slow, and finally fully-baked, you have a winner in my eyes. That is the Roadhouse Bread for me, which was created in 2003 when Zingerman's was opening the beloved Roadhouse; the restaurant that makes some of the best traditional American food in the country. The managing partner of the restaurant at the time, Alex Young, needed a signature bread for the opening of the restaurant.
That's when Frank Carollo (one of the Bakehouse managing partners) and Shelby Kibler (leader of the bread bakery at the time) came to the rescue with their skilled baking hands and research. A common bread recipe that popped up in their browsing of old American cookbooks was the "Injun bread" or "thirded bread." It was called "thirded," because the bread was made of roughly one-third cornmeal, one-third rye, and one-third wheat flour.
In the early 19th century, European settlers had a hard time growing wheat in the harsh soil conditions of New England; while on the other hand, grains such as rye, corn, and barley fared well. Being less available, wheat became an expensive ingredient. The settlers supplemented what little wheat they could afford with rye flour and cornmeal in their bread-making attempts; thus, the trio of rye, corn, and wheat had become the popular grain mixture of the time. With a bit of molasses also added in, the abundant sweetener of choice in that day, the delicious and filling "thirded bread" was born. It is this historic bread that formed the basis for Frank and Shelby's attempts in developing the desired signature bread for the new Zingerman's establishment. It was not an easy feat for the bakers, with a lot of stickiness and dough tearing (so I heard). According to Frank, soaking the cornmeal with boiling water to stabilize it, prior to adding it into the dough, was the gateway to success in creating the Roadhouse Bread.
We make this bread every day at the Bakehouse. We take delicious organic cornmeal from New York's Champlain Valley Milling and add boiling water to it in our giant mixers, letting it gently pre-cook into a 'mush' while emitting sweet, grassy aromas. Once it is cooled, we add that mush (a lot of it, almost equal to the total flour weight!) to a mixture of organic wheat and rye flours, bound together with molasses and water, all to be naturally leavened by our ripe, fruity and sour stiff levain. The pastel clay-colored, sticky dough bulk ferments at room temperature for about three hours to develop flavor and texture before we bench and divide it. The pre-shaped rounds of dough rest for about 45 minutes before each piece gets a final shape of a hefty sandwich loaf or a smaller batard. Shaped breads proof on cornmeal boards, free-standing and rising to their full potential, for about 2 – 2.5 hrs.  Then we generously sprinkle more cornmeal on top, and skillfully score them before they hit the hot stones of our deck ovens for a dark bake.
The result is a delicious bread, representing the foodways of the American past and the magic of naturally leavened bread baking. A bread for days, if it will last that long… comfort food to the nth degree with every bite. Our Roadhouse restaurant has wonderful, delicious staples as well as changing specials, energetically honoring the American food culture and what is in season. To me, the food is luscious, joyful, accessible and comforting, and the Roadhouse Bread symbolizes just that. As I write this, I can smell the dark, slightly crunchy crust, reminiscent of grilled corn, maybe a bit smokey, and feel its chew against the tender, sweet and somewhat grassy smelling crumb, slathered with butter. The balanced fruity sour comes in to play against the deep sweetness from the molasses and the dark crust; while the crumb, with added moisture from the mush, easily gives into your bites to reveal its pleasantly grainy texture from the cornmeal. The savory factor is full on. Period. You are salivating for more. It is a multi-dimensional experience, in the moment as I am eating it, and now, as I think about it. That is the effect of the Roadhouse Bread on me: that I can transport myself to the restaurant, I can imagine what it feels like eating it and try to put it into words. It is worth every bite, and I have a strong hunch, the early settlers felt the same when they ate this bread after a day's hard work.
by Hazim Tugun, Bakehouse
Originally from the island of Cyprus, Hazim decided to immerse himself in the world of bread baking and all foods fully flavorful after a career in environmental engineering. He joined the Bakehouse team in 2016 with a focus on bread quality and innovation. You may find him at the bench with his baker friends rolling Farm dough, milling flours on our stone mills, teaching a Naturally Leavened Bread class at BAKE!, tasting breads, loudly (he calls it "passionately") elaborating on the benefits of whole-grain flours or temperature for sourdough baking, or stopping in his tracks to think about the next possible bread or improvement. Science is dear to him, and he loves windsurfing!! He was recently featured on Rise Up! The Baker Podcast with Mark Dyck talking about getting his start in baking, the tension of leaping into a new career, and working on a team where he can be his whole self.