We have already been making a great (if we do say so ourselves) Vollkornbrot (Vollk 1.0) that our guests have come to love and appreciate over the years. Developed by a former Bakehouse employee, who was a certified Master German Baker, Vollk 1.0 was essentially a field of rye condensed into a nutritious brick of a loaf studded and covered with toasted sunflower seeds. It is a hefty dose of rye chops, essentially held together with a bit of medium rye flour and our powerful and fruity rye sour. A sprinkle of instant yeast, together with the action of the rye sour, helped the dough rise before it hit our rotating convection ovens for a relatively low and slow bake. It was good. Really good. But part of the Zingerman's ethos is "constant improvement," and we believed this bread could be revised to have improved flavor and texture.
Our new and improved naturally leavened (no commercial yeast) Vollkornbrot (Vollk 2.0) still embraces the ideals of our original version—a dense, nutritious, lasting rye loaf, one that German expats may be especially delighted to find and become loyal to at our bakery. A handful of toasted sunflower seeds adds just the right amount of nuttiness to the complex flavors of rye. In every moist bite, you will find fruity, spicy, earthy, almost wine-like notes with a complimenting sour and a lingering smooth mouthfeel. One analogy that comes to my mind, if I may say so, is this—if Vollk 1.0 is the well-flavored grape, Vollk 2.0 is the wine (of course, the latter being more true when Vollk 2.0 is well-executed). How so?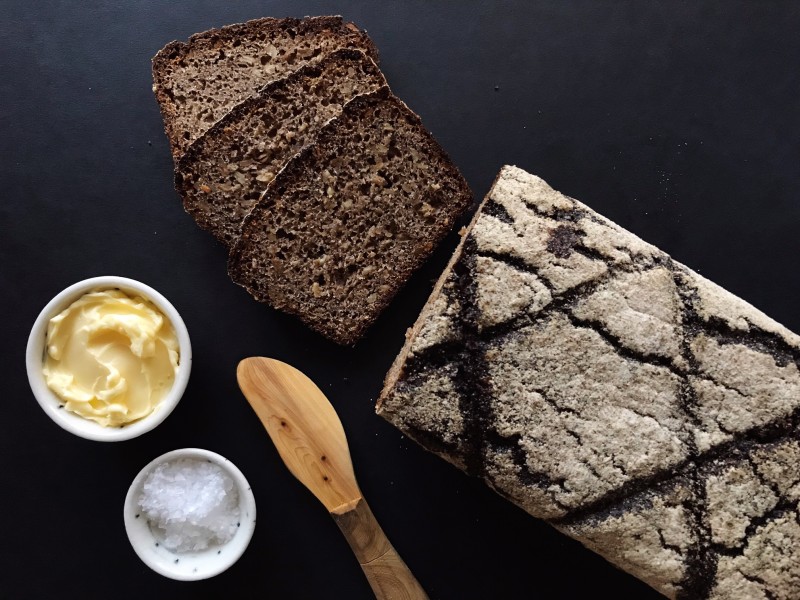 With flavor, texture, and digestibility in mind, this new version uses freshly milled, organic, whole grain rye flour as well as freshly cracked organic rye chops from Breslin Farms in Illinois. Using the whole grain and freshly milling it in-house means that we are keeping the nutrition and the aromas and flavors of the grain as intact as possible in the flour by incorporating all of the components of the rye berry in the flour, including the bran and the germ. (The medium rye flour we were using in Vollk 1.0 had some of its components removed.)
For Vollk 1.0, we pre-soaked only some of the rye chops (and none of the sunflower seeds) that went into dough, and those that were soaked were not necessarily soaked in enough water to fully soften the chops. That resulted in some uncooked rye chops in the final bread (also visible to the eye as white starchy bits when sliced). Vollk 2.0 pre-soaks all of the rye chops as well as the sunflower seeds with plenty of boiling water for several hours. This results in rye chops that are fully softened and somewhat pre-digested by the action of enzymes during the soaking process, and yet still intact enough to add some texture to the final bread. The pre-soaked sunflower seeds also don't steal moisture from the dough, as opposed to raw ones that soak up moisture as they sit and bake with the dough.
Vollk 1.0 used instant yeast and a small amount of rye sour for fermentation, which happens typically in about 2 hours. This resulted in a very mildly flavored, not as open-textured bread, with an aroma that is reminiscent of a field of grains on a hot summer day. Vollk 2.0 has a lot more flour in the mix and is all whole-grain, which means the chemistry of rye becomes more critical for proper fermentation. That is why Vollk 2.0 uses almost a 1 to 1 ratio of flour to a stiff rye sour for effective fermentation, coaxing as much flavor as possible from the grain while providing leavening and acidification to prevent the delicate starches of the rye from breaking down from too much enzyme activity. Using more rye flour in the mix results in a lighter texture, and using only natural leavening results in a deeper, more complex flavor profile with a pleasant amount of sourness that matches the flavor of the rye.
Vollk 2.0 gets baked in a "falling" oven, which means that it starts baking at 500°F, and we slowly turn the temperature to 375°F over the course of 1 hour and 15 minutes, as opposed to a 375°F bake for 1 hour and 10 minutes for Vollk 1.0. The higher temperature and slightly longer bake of Vollk 2.0 means a relatively more fully cooked loaf of bread without burning it, as well as fully releasing the flavor potential of the bread.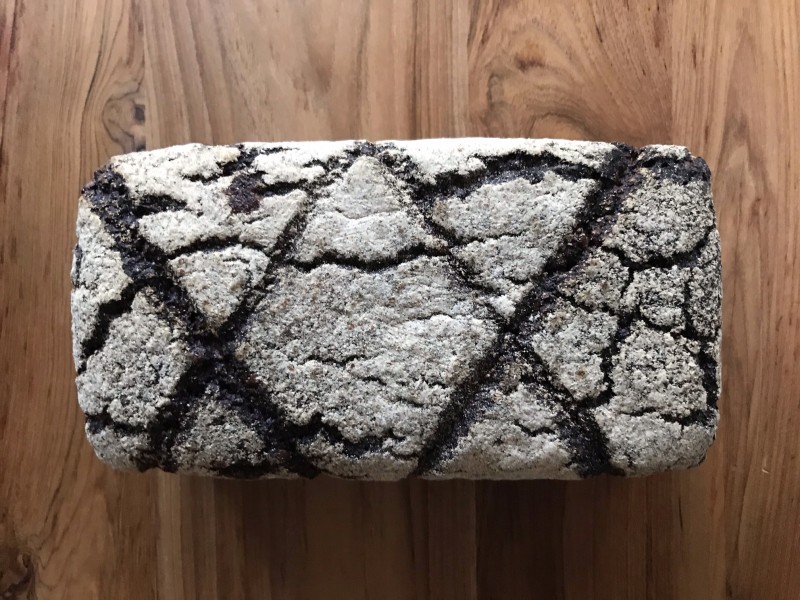 The result? With the freshly milled whole grains, fully softened rye chops and sunflower seeds, long and slow natural fermentation, and a fuller bake, Vollk 2.0 is intended to offer better digestibility together with an improved flavor profile and texture.
What does this mean for your enjoyment of the bread? The high moisture retention capacity of the rye grain and the high amount of natural rye sour that goes into the making of this bread gives it a long shelf-life. It easily lasts a week compared to a few days or so with Vollk 1.0—and it is easier to cut. We wait 24 hours after it is baked before slicing and eating it;  this 'curing' period lets the crumb set and flavors develop. We suggest storing it differently than anything else we make! Wrap it well in plastic (this helps soften up the crust!) and keep on your countertop in a cool and dry environment, or refrigerate it for a shelf-life easily beyond one week.
This bread is flavorful and satisfying on its own. It would also be fantastic with Zingerman's Creamery smoked salmon cream cheese and a little fresh dill, with some butter of your choice like Danish Lurpak, with a red fruit jam or a hardy mustard and a slice of smoked ham. Enjoy!
By Hazim Tugun, Bread Baker
Bakehouse Grain Commission
Originally from the island of Cyprus, Hazim decided to immerse himself in the world of bread baking and all foods fully flavorful after a career in environmental engineering. He joined the Bakehouse team in 2016 with a focus on bread quality and innovation. You may find him at the bench with his baker friends rolling Farm dough, milling flours on our stone mills, teaching a Naturally Leavened Bread class at BAKE!, tasting breads, loudly (he calls it "passionately") elaborating on the benefits of whole-grain flours or temperature for sourdough baking, or stopping in his tracks to think about the next possible bread or improvement. Science is dear to him, and he loves windsurfing!! He was recently featured on Rise Up! The Baker Podcast with Mark Dyck talking about getting his start in baking, the tension of leaping into a new career, and working on a team where he can be his whole self.