Let me introduce you to Nikki Lohmann, one of our talented teachers here at BAKE!, the hands-on baking school at Zingerman's Bakehouse. Nikki is an Ann Arbor native, lifelong baker, Princess Bride expert, and a mother of one son (and one cat). "I grew up in Ann Arbor, but I've lived in several other states as well. I have a really crazy, fun family. I grew up loving to bake, I loved making mine and my siblings' birthday cakes when I was younger. I have an almost 5-year-old son who is about to start kindergarten, he's just my world! I also have a cat named Mowgli, he's very sweet! My favorite movie is The Princess Bride. I have the entire movie memorized, although, that means no one wants to watch it with me because I can't not say every line."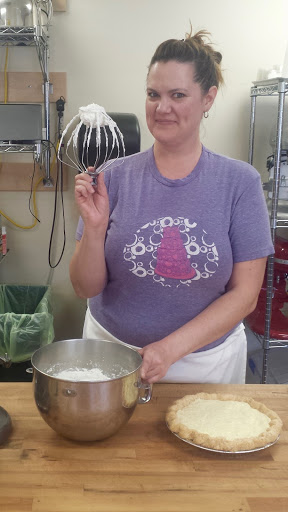 In September Nikki will be celebrating her 6 year anniversary working at BAKE! Unlike many others who work at BAKE!, she didn't start out at the Bakehouse and as she put it "started from scratch" learning the Zingerman's culture. Nikki always knew she wanted to teach, and started off going to school for elementary education. However, she had a passion that equaled her love of teaching: cooking and baking. She loved teaching and baking so much that she hoped one day she could somehow combine her two passions. Spoiler Alert: she did, and we are the better for it!
"Ever since middle or high school I knew I wanted to teach something, but I really loved cooking and baking as a kid as well. Then I was slowly going to school, for elementary education and paying as I went. I was living in Arizona, and my boyfriend at the time suggested culinary school, because I was always cooking and baking and watching the "Food Network". So I checked it out and saw I could have school done in a year, so I decided to go for it. I worked at a pizza place in high school and that was my only culinary experience before going to culinary school so I was starting out fresh. I worked at some different restaurants and universities as a pastry chef. I really liked when I got to train staff members. After a few years, I knew I really wanted to teach baking. So I went on to combine my two passions."
Growing up in Ann Arbor, Nikki was no stranger to Zingerman's. "So I've always known about Zingerman's since I grew up here. My first job was for food delivery by phone and we delivered from the deli, and we ordered food from there every once in a while. One day I was looking at job postings for baking and cooking instructors and I saw the posting at Zingerman's Bakehouse for BAKE!  I didn't even know that BAKE! existed so when I saw Zingerman's Bakehouse Baking Instructor I got super excited! After I saw the posting I applied like an hour later. After I went online and saw all the classes and topics I was so excited, to work at a place like Zingerman's and to teach baking would be amazing! Pretty much my dream job. What really made me want to work here was the reputation that Zingerman's has. We're really well known around the world and we use really high-quality ingredients. After getting to observe a class I just thought it was really well run and to work at a place that already had a really great reputation would be good."
When I asked Nikki about her teaching style her answer was as earnest and sincere as she is, "I wonder if students think I'm being fake or if they know I'm this excited about what I'm teaching and making. I kind of go crazy in cookies and brownies and I almost wonder if I'm kind of obnoxious but I really just love making that stuff! So I would say that my teaching style is being as enthusiastic as possible, especially when it's some of my favorite items, and getting students really excited. And trying to think of new ways to explain something, because I'm so used to doing some things in the professional description but I try and think of it in a way that the students can relate more. I think my teaching style is being as excited as possible to get the students excited. Teaching by enthusiasm. If that's a style."
Nikki has a special love for the decorating classes, and her passion and talent for decorating REALLY shows. "I'm probably more the decorator here at BAKE!, although we all teach all the classes. So I do like to teach the bread classes but I would say out of everything I really love the decorating classes. So whether it's fondant or buttercream or cookies, I just really love decorating." Watching Nikki create beautiful, realistic flowers with a piping bag in the BAKE! class I took, Tips with Tips: Basic Cake Decorating is how I imagine it would be to watch Van Gogh paint his famous Fifteen Sunflowers. An onlooker wouldn't be able to see the vision that's crystal clear inside the artist's head, but once they get to work, creating effortless flowers and embellishments, their vision becomes clear to you and you're left awestruck by the simple, graceful strokes of the paintbrush, or in this case piping bag. Nikki simply is an artist, she creates beautiful temporary works of art, whether it be through cake decorating or bread making. And isn't it kind of wonderful that we get to take part in her temporary art? It's more than the Zingerman's motto of tasting the difference, it's seeing the difference, and appreciating the craft and beauty in someone's work. If you take a class with Nikki you'll catch her enthusiasm and passion for baking, and get to fully appreciate a true artist at work.
Q & A with Nikki
Favorite class to teach?
"It's really hard to pick one favorite class. I think for fun I like Creative Cookies, because it's decorating cookies with fondant and icing. It's just a blast. And any class where we teach pie dough. I think is the most satisfying as an instructor because a lot of people are intimidated by rolling out pie dough. I love when people leave class saying pie dough doesn't scare me anymore!"
Favorite thing to bake at home?
"My favorite thing to bake is cheesecakes, but I don't make them often, unless I'm going to someone's house. I can't have all that cheesecake at home! The most impressive one I've ever done, and it's such a pain,  is a triple chocolate. You divide it into three, you melt milk chocolate in one, white chocolate in one, and dark chocolate in one and then carefully layer them. You don't want it in swirls so when you cut it you can see those distinct layers. It's a pain and you go through so many dishes! But it's so so pretty! And delicious."
Favorite Bakehouse food to eat?
"Picking a favorite thing to eat here is so difficult. Country scones and apricot rugelach."
What you've learned at BAKE!?
"I've definitely learned teamwork, from working in a small team, it has challenges.
Also, I've learned about using better ingredients here. I've worked at some places that use box mixes, like when I was working at a university and I had 30 cents a student to spend on making food so here I've definitely learned about using better quality ingredients. Learning the Zingerman's way of life, it took some getting used to, and then it kind of spoils you and now I'm scared to ever leave! Because no other place will be like this. I think teamwork, and having this kind of culture is really amazing."
Hobbies:
"Besides watching Princess Bride? I love other movies. I love TV shows, probably a little too much. I'm also really good at getting knots out. My main hobby is hanging out with my son."
By Kelly Zelna, Bakehouse