Teaching children has long been a passion of mine. I knew in high school that I wanted to go to college to become an elementary school teacher. In 2002, I was about halfway through my schooling when my other passion, baking and cooking, started to call out to me, so I decided to switch gears and go to culinary school.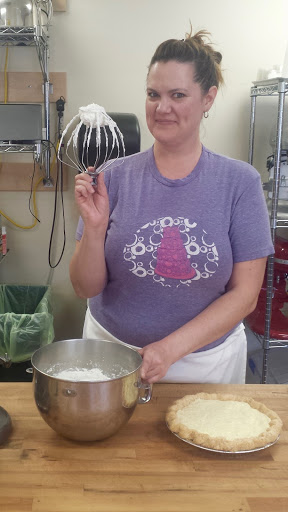 Since I graduated in 2004, I've worked in restaurants, convention centers, and universities. But there was always this lingering feeling of "Did I make the right choice?" "Should I have stayed with getting my elementary education degree?" "Why am I working summers in hot kitchens when I could have been off for 3 months?!" I loved sharing my culinary knowledge with the student assistants I had in the bakeshop at Eastern Michigan University, and after years there, I realized that what I really wanted to be was a chef instructor. Having a job that combined both of my passions was a dream.
In the summer of 2011, I saw a job posting for a baking instructor at Zingerman's BAKE!. I grew up in Ann Arbor and, of course, knew about Zingerman's. I didn't even know about BAKE!, but when I looked at the schedule online, I knew I NEEDED to get the job. Luckily, I got the call from Shelby Kibler, former BAKE! Principal, at the end of August, and joined the BAKE! team the following month.
There were so many classes that it was a bit overwhelming, but I was excited to learn them all. What really energized me the most, though, were the family classes. I love getting to work with kids (and their parents) and teach them my favorite subject: baking and cooking! Their excitement for mixing, kneading, shaping, and tasting brings me such joy. Now, I've been here so long that kids I taught in family classes in my first few years here are now taking adult classes, and several are even in college now! 
In early 2015, the BAKE! staff decided that our next adventure would be kids' baking and cooking summer camps. With shows like The Great British Baking Show and Food Network's kids' cooking challenge shows, along with the rise of YouTube cooking shows and food blogs, many kids in family classes were already pretty accomplished home bakers and wanted to expand their knowledge. We knew that with our extensive recipe collection, our already great reputation, and our passion for teaching, we could create something great.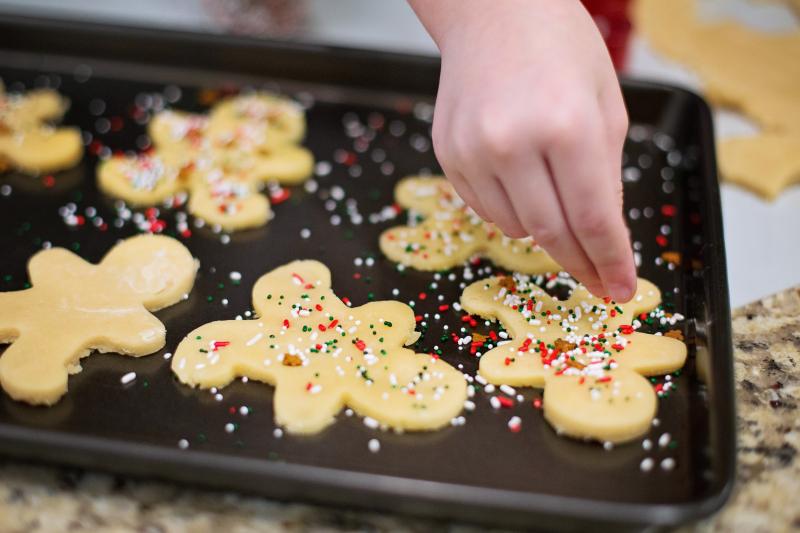 Overall, our kids camps have been amazing and we have so much fun teaching them every summer. Their enthusiasm is infectious, and we laugh all the time at the things kids come up with in class. It's fun for us to see the same kiddos each year, although I have to admit that when I haven't seen them for a year and they are suddenly taller than me and looking so grown up, it makes me kind of sad! Still, it's such a joy to have them come back excited to learn new recipes, meet new friends, and help us engage the brand new students.
We hope that, whether or not your child has already taken a cooking and baking camp with us, they are learning to bake and cook at home, and that they're engaging with food in a meaningful way. Here are some tips I've learned along the way for successful baking and cooking with kids. 
10 Tips for Baking & Cooking with Kids:
1. Start introducing kids to working in the kitchen as young as possible. There are many ways even a 2-year-old can get involved in the kitchen. Have them add chopped vegetables to a salad. Let them dump ingredients into the mixing bowl. Let them taste ingredients.
2. Teach them about safety in the kitchen—why washing their hands is important, how to use oven mitts to remove a hot pan from the oven (when they are old enough), how to check the temperature of chicken with a thermometer, what to do if they get a cut or a burn, etc.
3. Involve your child with menu planning for the family. Let them help choose the main dish, side dish, and dessert; and research recipes that they can easily help with.
4. After menu planning, have your child help write the shopping list. At the store, let them help pick out produce, have them read the aisle signs to look for ingredients, or let them pick out a fun, new tool from the kitchen equipment section that they can use to make the next meal. 
5. Choose foods to make that kids find appealing and interesting. Since they already like a food, they'll likely be more interested in helping to make it.
6. Get picky eaters to help make foods that they aren't a fan of and try new ways to cook them. Your kid doesn't like steamed broccoli? Try roasting it. Your child doesn't like beans? Try making a veggie burger patty with them. Many times, if they are involved in making a recipe they'll be more likely to at least try it.  
7. Choose recipes that kids will be able to create without too much assistance after they learn the recipe. Start with easy recipes like cookies, brownies, or muffins. As they get more comfortable with the baking process, their confidence will increase and more challenging recipes can be tried.
8. Choose recipes that others in the house will want to enjoy. Kids will love the feeling of making their friends and family happy by making something delicious and homemade. Baking or cooking something really shows someone that you care!
9. Be patient with them! It can be easy to want to take over cracking the eggs or scooping the cookies but they need the hands-on experience to gain confidence.
10. Have fun with them! Get in the kitchen with your kid. (Or try a family class at BAKE!—no cleanup!) Your enthusiasm and excitement will create the same in your kid. The more fun they have, the more likely they will be to want to continue learning to cook and bake.
By Nikki Lohmann, BAKE! Instructor
Images credits: (2) Pixabay, (3) Alexander Dummer, (4) cottonbro, all from Pexels