At Zingerman's we are constantly seeking to make our food more deeply flavorful, whether by tweaking our recipes, using better ingredients, or refining our methods of production. In recent years, as part of our commitment to freshly milled whole grains, we upgraded our beloved Funky Chunky cookies by switching out organic white all-purpose flour for a combination of in-house milled soft white wheat and hard red spring wheat. This year, we gave our Hot Cross Buns a glow-up by incorporating our own candied citrus peel, swapping in freshly milled golden durum and hard red spring wheat, and using new techniques that keep the buns soft and light. 
Our latest foray into the quest for continuous improvement brings us to an ingredient that's already loved by so many—chocolate! Because chocolate is often the star of a baked good, we knew anything we swapped into our recipes would have to be very special. Enter artisan chocolate company French Broad Chocolate. Zingerman's co-founder, Ari Weinzweig, has been a big fan of their chocolate ever since he first tasted it in their Asheville, North Carolina-based shop years ago, loving the fact that the chocolate is both delicious and ethically-sourced and produced. This is important, because the story behind each ingredient we use throughout the Zingerman's Community of Businesses matters just as much as its flavor. To quote our 2032 vision, "when we source each ingredient we use, we aim to make thoughtful and purposeful choices, keeping environmental sustainability, energy usage, and ethics in mind. We continue to find that great taste is connected to and reflective of the care the producer takes in producing their products." 
Why French Broad Chocolate?
Ari notes their dedication to helping growers to facilitate better lives and their dedication to sustainability as key differentiators of the company in a sea of other chocolate producers. In fact, the company's values and practices earned them a B Corporation certification. This distinction is awarded to companies highly dedicated to improving social conditions and environmental impacts in the workplace. One of the many initiatives they have taken to reduce waste and support local agriculture is to share cacao shell mulch with local farmers and gardeners. 
They've also opened their production facilities to guests in an effort to educate them on what makes their company unique and why it's important. Echoing our own words from the 2032 vision, founding member Jael Skeffington said in an interview with Candy Industry magazine that "what (they're) paying for the cacao, what the farmer is getting from it, the quality of post-harvest process (their) beans go through relative to a commodity cacao, and the way (they're) doing business in Asheville—it all matters."
So you see, they really fit the bill. 
But what about the flavor?
French Broad Chocolate makes a number of different bean-to-bar chocolates. We had the delicious task of tasting our way through them and eventually settled on a 68% Nicaraguan dark chocolate. Jael says that they've had a longstanding partnership with these producers and that they are always impressed with the quality of the cocoa received from them. Their post-harvest process creates low-acidity beans that produce a chocolate that is earthy, a little fruity, and, well, deeply chocolatey! This variety has been deemed the "house chocolate" at French Broad Chocolate because its founders love it so very much.
How will we use it?
In April, we will begin using it in our gluten-free favorites, Townie Brownies and Townie Brownie Cake. We'll also be using it in our Hungarian coffeehouse torte, Dobos Torta, and our crowd-pleasing Chocolate Cherry Bread. Amanda Benson, who heads up our bread bakery and has been conducting the test bakes, says the change is clear. She says, "It has a more deep chocolate flavor. The richness of (it) comes through in the bread more. Paired with the tart cherries, they complement each other nicely." We're big on big flavors, so a chocolate with a deeper, richer, more complex flavor profile was a no-brainer. 
So whether you're a self-proclaimed chocoholic or just someone who enjoys a sweet treat now and then, come on into the Bakeshop and give one (or all!) of these new and improved items a taste. We think you'll really taste the difference!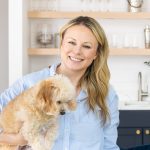 Corynn Coscia is the in-house photographer and a member of the marketing team at Zingerman's Bakehouse. After spending her childhood reluctantly in front of the camera of her hobbyist-photographer father, she was eager to move behind it, prompting her to pursue a BA in Film & Video Studies at the University of Michigan. With degree in hand, she moved to Los Angeles where she worked in the TV and music industries before discovering her passion for food photography while working in marketing with a plant-based chef. 2 dogs, 2 kids, and 13 years later, she's back in Ann Arbor doing what she loves and somehow getting paid for it. She recently completed a photography fellowship with her mentor, New York Times food photographer Andrew Scrivani, and has since been shortlisted for a Pink Lady Food Photographer of the Year award. Her photos can be seen throughout the Bakehouse on the walls, on the website and social media, and in the Bakehouse's series of cookbooklets; she hopes they're making you hungry!