Carrot top pesto tartlets. Potato peel focaccia. Scrappy stratas. 
These are just a few of the creative, delicious and waste-reducing recipes Lindsay Jean-Hard, local cookbook author and Zingerman's own, will showcase during her upcoming BAKE! Event series about cooking with scraps: Scrappy Apps, Scrappy Stratas and Frittatas, and Don't Take Your Top Off!, the latter of which is a lesson on how to use often discarded vegetable tops. 
Consider these events a (delicious) hands-on bootcamp where you'll learn just how versatile underutilized produce parts can be through hands-on instruction from Lindsay-Jean. You'll leave with a waste-reducing mindset, new back pocket recipes, and the fruits of your labor—scrappy, delicious food to take home with you!
Meet Lindsay-Jean Hard
Lindsay-Jean is the IACP award-nominated author of Cooking with Scraps: Turn Your Peels, Cores, Rinds, and Stems into Delicious Meals. Lindsay-Jean's work has been featured on the Food Network, and in Salon, Wine Enthusiast and Wired, just to name a few.
Lindsay-Jean received her Master's in Urban Planning from the University of Michigan. Her background in urban planning, and her passion for sustainability, went on to inform and inspire her work in the garden, home, and community. The seeds of Cooking with Scraps were planted in her Food52 column of the same name. We're lucky to have her on our team as a marketer here at Zingerman's Bakehouse, where she works to share her passion for great food and great communities.
We sat down with Lindsay-Jean ahead of her upcoming events to learn more about her drive to reduce food waste, the mindset shift that comes with reducing food waste, and about her favorite waste-reducing recipe.
What inspired you to explore reducing food waste?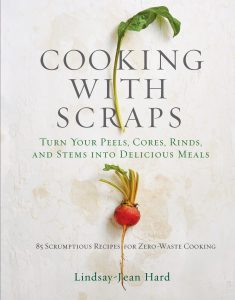 I was working at Food52, a food and lifestyle website, and we had an editorial meeting to brainstorm new column topics. Gabrielle Hamilton's cookbook Prune had just come out, and she has a chapter in it titled "Garbage." We thought it would be fun to do something along those same lines that dealt with food waste, and it was one of those moments where something just feels really right and meant to be—I felt like the column had to be mine. That's where Cooking with Scraps was born.
I would look through the recipes on the site (Food52.com is a community-built website, so anyone can upload recipes) to see how people were making creative use out of so-called "scraps." I would highlight their recipes to share with the broader community, and occasionally share recipes of my own, too—I learned so much from the Food52 community members during that time! I really wanted to share that knowledge with a broader audience, because food waste is such a serious problem—here in the US, somewhere between 30 and 40% of food is wasted.
Do these recipes require changes in shopping or cooking habits?
For many of us, cooking with scraps really requires a mental shift more than anything. When I started to get into cooking, I was in enough of a position of privilege that I didn't have to question when a recipe would tell me to "cut off and discard" a kale stem—I just did it. Some people are already really great at using up all of their odds and ends, whether they learned that from family members or grew up in situations where everything needed to be used. But I think my experience is a common enough one that it will resonate with a number of people. So for all of us, it's a matter of taking a moment to pause and think, "Is this edible? Do I really need to discard this?" More often than not, it is, and you don't. So how are you going to put it to good use?
What's the current favorite recipe in your house and why?
My family teases me that I never make the same recipe twice, and while that isn't exactly true, it also isn't all that far off the mark. (In my defense, there are always new recipes to try and new beautiful cookbooks to explore, so it's hard not to be in a constant state of exploration!) But, one notable exception is my Banana Peel Bread. I'm really proud of the role I've played in helping the Bakehouse reduce food waste, in part by baking with banana peels. My personal recipe is adapted from the Banana Peel Cake in my cookbook, but for a similar one, try the Bakehouse Banana Bread recipe.
What have you learned by speaking about your book and teaching these recipes?
I continue to learn from others about scraps that I didn't realize were edible. When folks would ask me what to do with avocado pits, I would say to grow an avocado plant or use them for a craft, but I recently learned that they can be used to make a flavorful syrup for cocktails. And on a personal level, I used to be incredibly nervous about public speaking, but it helped a lot to realize that it's not about me, it's about getting the message out—aka get over yourself already.
What surprises you about people's questions when you speak or teach?
I'm always delighted when people are so inspired that they start peppering me with questions about other ingredients: "Well what about this item?! How about that one?! Is that scrap edible?! How about x, y, or z?!" Having a conversation about it pushes us all to try and be more thoughtful when we cook.
What's special about your latest classes coming to BAKE!?
I'm excited about it because all of the classes have a different focus and we're covering a lot of ground—frittatas, focaccia, hummus, soup, strata, and more—so there's really something for everyone. And, while the classes are focused around reducing food waste, the vast majority of the recipes have short ingredient lists with easy-to-find ingredients, making them winners for incorporating into busy lifestyles, that just so happen to have the added benefit of helping the planet.
Don't miss out on a chance to learn how to reduce food waste, add new recipes to your toolbox, and to take home the delicious food you'll create in class. 
Learn more about the event series below. 
Save your seats today! 
Lindsay-Jean's Upcoming BAKE! Classes 
Wednesday, March 11, 2020 – 6:30pm – 8:30pm
Do you wish you had more go-to appetizers up your sleeve? Wouldn't it be even better if they put to use some of the food scraps that often get thrown away or composted? We'll demonstrate a selection of scrappy apps including Kale Stem Hummus, Parsley Stem Tabbouleh, and Potato & Chive Aebleskivers that will be a hit with guests, all while helping you reduce food waste.
Friday, April 24, 2020 – 12:00pm – 4:00pm
All too often at the farmers market or grocery store, guests will ask for vegetable tops to be taken off, explaining that they won't use them. And recipes often call for produce to be peeled, which means those peeled are discarded. Don't let that be you! Local author Lindsay-Jean Hard shares recipes that put both tops and peels to good use from her IACP Award-nominated cookbook, Cooking with Scraps, and former Food52 column of the same name. 
The leafy tops of vegetables (like beets, carrots, fennel, leeks, radishes, and turnips) are all very useful, as are the top layers (aka peels) of many types of produce (like apples, pineapples, melons, and potatoes), but more importantly, they're delicious, too. Together we'll learn just how versatile these ingredients can be and make a selection of recipes that highlight these underutilized produce parts. You'll make Carrot Top Pesto Tartlets, Potato Peel Focaccia, and Red Lentil Soup with Beet Greens, and Lindsay-Jean will demo Apple Peel Tea.
Wednesday, May 6, 2020 – 6:00pm – 9:00pm
Local author Lindsay-Jean Hard shares recipes from her IACP Award-nominated cookbook, Cooking with Scraps. Learn how to make stratas and frittatas—two back-pocket meals that are simple to pull together, but impressive enough for guests. They each have their own superpower—frittatas come together quickly and are even easier than quiche, making them a stellar weeknight dinner option. Stratas are make-ahead friendly, so they're just right for a mostly hands-off dinner or brunch when you have time to prep in advance. Plus, both are ideal for using up stragglers in the fridge—vegetables, meats, and/or cheeses. Clear out your crisper and create delicious meals at the same time—it's a win-win! You'll go home with a finished frittata and an unbaked strata, ready for you to bake the following day.