One of our best-selling Jewish treats is a tender and flaky, not-too-sweet Jewish cookie called rugelach. We make six different flavors throughout the year but, hands-down, our most popular flavor is the apricot. There are many factors that make this unassuming cookie remarkably special. The indulgent butter and cream cheese pastry dough (it's 2/3 butter and cream cheese and only 1/3 flour!) and the cinnamon and sugar topping that gets nice and crackly while the cookie bakes certainly play a role. But the apricot preserves we get from Food for Thought in Traverse City, MI that we use in the filling definitely take the experience of eating one over the top.
We choose our ingredients carefully and these truly delicious preserves check all the boxes. They're full-flavored, free from preservatives and any unpronounceable chemicals and made by a regional producer using local agriculture and sustainable methods. We find these preserves so special that we thought they deserved some time in the spotlight. 
Beyond getting mixed with fresh bread crumbs and piped onto our rugelach dough, we also use their zippy apricot goodness to brush the top of each Rigó Jansci Torta we make. Every Purim, they sit center stage in our apricot hamantaschen, and every summer, they're used to glaze our fresh fruit tarts, providing the dazzling shine to the season's plumpest blueberries. It's not just the flavor that we're smitten with though, there's also a lot to love about the company that makes them.
What Sets Food for Thought Apart
The folks at Food for Thought make over 30 different kinds of preserves (as well as an array of salsas, sauces, and condiments) and they still do it all the way your grandma used to—in small batches, hand-stirred over an open flame. Because the majority of their ingredients are sourced
locally, they're fresh and ripe and make for fruit-forward preserves. The apricot variety that we use has a prominent tartness that's characteristic of the fruit and distinguishes it from its sweeter, juicier cousin, the peach. This makes it particularly suited to baking as it can hold its own against the sugar and butter that can sometimes bulldoze more delicate flavors.  
Timothy Young, founder of Food for Thought, credits the surrounding beauty and nature in northern Michigan as heightening the flavor of their products, in an almost mystical way that goes above and beyond using great ingredients, as if the essence of the area imbues itself right into the product. He goes as far as to say that opening a jar of their preserves unleashes the sights, sounds, and smells of Traverse City for its beholder. 
A Commitment to Sustainability
This deep respect for and appreciation of the Earth can be seen throughout Food for Thought's business practices. Through his human relief volunteer work, Young learned a lot about how food was grown and traded globally. It inspired him to shape his food business in a different way, acting less as a businessman and more as a caretaker of the land and the local and global food communities. 
Young built their facility from the ground up using only locally-sourced and recyclable materials. When the business outgrew that, they purchased an old, abandoned elementary school and converted it under green energy standards. They obtained organic certification for both the facility and the grounds and started growing many of the ingredients they use in their products. Whatever they can't grow or source locally (they're still working with the same blueberry farmer they started with over 25 years ago!), they obtain through Fair Trade whenever possible.
Young feels very passionate about supporting Fair Trade-certified food because it empowers small growers; rather than be subject to whatever current commodity trading rates dictate, these farmers can form co-ops, pool their resources, and sell directly to buyers, cutting out the middleman that takes a large percentage of the profits. Young has made a "conscious effort to take care of the people in the chain from seed to table."
As stated on their website, when you buy Food for Thought, "you are making a statement—not just about the kind of food you eat, but also the type of company you support." Young and his partners have cultivated a mission-based food company that not only upholds its values in a world where it's often easier to cut corners but also one that produces outstanding, flavorful products. 
So the next time you bite into an apricot rugelach, think not only about how delicious it is (because it definitely is!), but also about all the care and deliberateness that went into just one component of it, and how many different communities you're supporting by enjoying it. Eating for more than just the pleasure of your tastebuds definitely gives one food for thought.  
Hungry for More?
Pick up a pack of Apricot Rugelach

at the Bakeshop today

Learn how to make rugelach in our

Two Jewish Jewels

hands-on baking class

Ship a copy of our cookbook,

Zingerman's Bakehouse

, to someone who'd love to make rugelach at home

Prefer your stone fruit smaller and redder? We also use Food for Thought's cherry preserves in our Valentine cupcake each February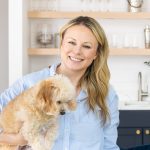 Corynn Coscia is the in-house photographer and a member of the marketing team at Zingerman's Bakehouse. After spending her childhood reluctantly in front of the camera of her hobbyist-photographer father, she was eager to move behind it, prompting her to pursue a BA in Film & Video Studies at the University of Michigan. With degree in hand, she moved to Los Angeles where she worked in the TV and music industries before discovering her passion for food photography while working in marketing with a plant-based chef. 2 dogs, 2 kids, and 13 years later, she's back in Ann Arbor doing what she loves and somehow getting paid for it. She recently completed a photography fellowship with her mentor, New York Times food photographer Andrew Scrivani, and has since been shortlisted for a Pink Lady Food Photographer of the Year award. Her photos can be seen throughout the Bakehouse on the walls, on the website and social media, and in the Bakehouse's series of cookbooklets; she hopes they're making you hungry!