The holiday season (or holidaze, as we call it) is underway at the Bakehouse! This is a time when we see many changes in our day-to-day operations, as our baking increases to fulfill the festive food wishes of our wholesale customers and local community. Ever wonder how we manage to make all those pies, coffee cakes, cookies, and more? Let's take a behind-the-scenes peek into our pastry kitchen and get the holiday dish from the department assistant manager, Julie Linovitz.
Hi Julie! Can you briefly introduce yourself, tell us how long you've been here, and what you do in the pastry department? 
Hi, my name is Julie Linovitz 🙂 I have an interesting history with the Bakehouse. I started here a little over 10 years ago when I was an extern from the Culinary Institute of America in New York. I worked for about 5 months and then went back to school and graduated! I stayed in contact and returned when I was done with school, working for a few years and serving as an interim manager for a holiday season. I left for a few years to bake in Washington D.C. I returned and have been back for about 2 ½ years. This is a long way to say that I have worked at the Backhouse for a total of over 6 years. I am currently one of the Pastry kitchen assistant managers!
The holiday season is a bustling time at the Bakehouse, to say the least. Organizing all the new people, coordinating with other departments, and staying on top of orders must be huge undertakings. When do preparations begin?
Preparations for the holiday season begin January 1st! All jokes aside, we do sit down early in the year and really focus on the things that worked and things we can improve on for the next season. We begin to hire a few holiday staffers around the end of August, so that they are trained for when the numbers really grow. The bulk of the holiday planning I do mostly happens in August and September. This is when I come up with a training plan to make sure we have enough regular staff who are fully trained that will be able to train our holiday friends. If there are gaps, I make a plan to fill those. I also make sure we have enough utensils/tools and the right equipment. 
What changes do you see in staffing during this time? 
We hire about 35 people to help make the season successful. During the year we are a team of 16 bakers  a day working from 5 am to 1 am.. For the holiday season, we increase to about 45-50 bakers a day!  
That's an impressive increase in the number of people. You must really feel it in the kitchen. What's one thing you like about working with so many new team members? 
One cool thing about working with new team members is mainly their excitement and new energy they bring to the kitchen. Oftentimes the holiday season can feel daunting. Whenever I am starting to feel that way, I know I can lean on my teammates to lift me up.
What's one challenging thing?
One challenging thing is that I often feel like an air traffic controller. I am focusing on many, many things at once and some days I don't get to work with each holiday teammate.
Given that a lot of our holiday team members are new to the Bakehouse and/or new to baking in general, how do we ensure quality, consistency, and food safety?
We focus a lot on training. There is an all day orientation for our holiday staff where they learn about our culture, history, and have a safety class. While on the job, we work as a team, side-by-side so that everyone is focusing on the pastries and making them beautiful! The Bakehouse is an artisan bakery and we know that not everything will be exactly the same. There's a range of acceptable and small differences because of the use of our hands and real ingredients. We are proud of the fact that we make everything from scratch and each pie shell we crimp will be unique. 
With a higher volume of production, do you automate more of the process?
No, everything is done the same way!  
When does the day start and when does it end? Are these hours extended during this time?
We start at 5 am and the kitchen closes at 1 am the next day. The hours are the same as the rest of the year. We just have more staff.
What's your favorite part about working at the Bakehouse during the holidays?
My favorite thing is seeing all the pies stacked up for Thanksgiving and knowing we are making so many families happy. I love seeing the huge wall of pies that everyone takes pictures with and is so proud of!
Give us some numbers. On an average day during the holiday season, how many sour cream coffee cakes do we make? How many cookies? 
On an average day during the holidays, we make over 750 sourcream coffee cakes and around 1,000 Fancy Schmancy cookies. We also use over 500 pounds of butter a day!
What's the first thing you're going to do when the holiday whirlwind is over?
I am going to watch a lot of TV and relax 🙂 
Lightning round:
Favorite holiday pastry? Chocolate chess pie, I haven't had anything like it any other bakery
Fave Fancy Schmancy cookie? Pfeffernüsse 
Fave bread for stuffing or Thanksgiving leftover sandwiches? Thanksgiving leftover sammies, grilled together on sourdough bread
HUNGRY FOR MORE?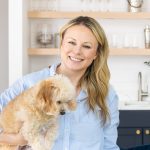 Corynn Coscia is the marketing assistant manager and photographer at Zingerman's Bakehouse. After spending her childhood reluctantly in front of the camera of her hobbyist-photographer father, she was eager to move behind it, prompting her to pursue a BA in Film & Video Studies at the University of Michigan. With degree in hand, she moved to Los Angeles where she worked in the TV and music industries before discovering her passion for food photography while working in marketing with a plant-based chef. 2 dogs, 2 kids, and 13 years later, she's back in Ann Arbor doing what she loves and somehow getting paid for it. She recently completed a photography fellowship with her mentor, New York Times food photographer Andrew Scrivani, and has since been shortlisted for a Pink Lady Food Photographer of the Year award. Her photos can be seen throughout the Bakehouse on the walls, on the website and social media, and in the Bakehouse's series of cookbooklets; she hopes they're making you hungry!