Maple syrup is an important ingredient at the bakery. We use it in our Big O cookies, Maple Bran muffins, and as the perfect accompaniment to our baked oatmeal. We've always used Michigan maple syrup but we never managed to take the trip to see the syrup-making live until this year! 30 years too late? Nah, better late than never. 
Maple syrup season begins in Michigan in early spring, while the maple trees are still dormant and temperatures climb above the freezing mark during the day but drop back down overnight. It lasts only 4 to 6 weeks and is characterized by small windows of time, called sap runs, when the temperatures are ideal.
An Up North Adventure
It's perhaps not the typical time of year one would make the trek "up north" to the Upper Peninsula but the drive up I-75 was a pleasant one, through rolling hills and the occasional small town, the highway not yet congested with travelers stuck in Michigan's infamous summer roadwork traffic jams. As I climbed north, the weather got colder and turned drizzly. Large sheets of ice could be seen on the lake's surface as I crossed the Mackinac Bridge and thick snow still covered the ground. Thirty or so minutes north of the bridge, after pine trees gave way to thick deciduous forests, I reached my destination, Michigan Maple Farms in Rudyard, MI. 
Walking into the industrial building that houses their processing and bottling plant as well as an expansive supply and equipment showroom, I did not expect to be greeted with such warmth—both in ambiance and spirit. The air was cozy and distinctly toasty and nutty, like sitting fireside (I later found out they heat their facilities with a wood-burning oven
system), and the woman behind the counter, Emily, daughter of the owner, was happily and patiently helping a man troubleshoot his own tapping issues; it was clear right off the bat that this is a family-run, community-serving business. 
The History of Michigan Maple Farms
The person at the head of the business is Mike Ross, an entrepreneurial man with 2 other successful businesses in town. His face is weathered and his clothes are practical, topped off with his signature suspenders. When I met him, he was tinkering with his son, Derek, on one of the large, commercial evaporators. He appeared to be all business, but was happy to stop and tell me all about their farm, or what the family affectionately refers to as the "sugar bush." A proud smile spread across his face as he talked of their humble beginnings, making small batches of syrup with just a few borrowed taps. Today they've grown into a 12,500-tree business on over 145 acres of land, due in part to Mike's enterprising mind and the incorporation of the latest technologies into their process. 
A balance of tradition and technology
In the preliminary conversations before my arrival, Emily insisted that whatever I was imagining (think Laura Ingalls and carrying sap-filled buckets from trees by hand) wasn't the reality. That was a thing of the past—her past to be specific; she used to have that job as a kid along with her sister when the company covered just a modest 20 acres. No, today they employ a state-of-the-art vacuum and tubing system, complete with monitors on each sub-main line that transmit data, alerting them to any potential problems in the lines, all accessible via an app on a phone.
So, instead of a slow drip into cold buckets in the morning sun, the sap is effectively pulled out of the trees and into tubing that feeds into a holding tank in one of the pump houses before being sent down the main line and into a huge sap tank just outside the building. Next, the sap goes through a reverse osmosis (RO) filtration system that reduces its water content and is finally boiled until it reaches the proper color and consistency. Mike says that the use of this technology increases their productivity by 10% and has helped them land some impressive wholesale customers, like regional supercenter, Meijer.
However, as we know at the Bakehouse, there's a fine line between maintaining traditional, time-honored methods and operating efficiently in the modern age, and Mike and his family seem to have found that balance. They appear to be using technology to free themselves up, so that they can more meticulously oversee the production process. It's clear that they're all there, every day, personally ensuring the product is up to their standards.
As Mike said in response to a comment about his work ethic, "we're pretty fussy on what we make…nothing is worth near as much if you don't earn it." This dedication to making the best maple syrup they can really comes through in the final product. 
But what about the flavor of the maple syrup?
The color of pure maple syrup tells you a lot about its flavor; the lighter it is, the milder it will be, and vice versa. Interestingly, the sugar content of light syrup vs. dark is the same. However, darker syrups are particularly suited to baking because the maple flavor is stronger and comes through
more in the final product.
Maple Syrup at the Bakehouse
At the Bakehouse we use Grade A Very Dark syrup (the darkest of the 4 Grade A color classifications)—it is a rich amber color and has a prominent caramelly flavor, reminiscent of a deeply toasted marshmallow. As stated, we proudly use it in our Maple Bran Muffins (it pairs perfectly with the regional bran from Janie's Mill) and our ever-popular, Big O Cookies. Frank Carollo, Bakehouse co-founder, says of the latter, "the maple syrup adds an interesting and unexpected complexity of flavor" and we think it plays nicely with the nuttiness of the whole grains in the cookie.  
If you're ever in the shop and need a morning treat, consider picking up one of these items and seeing if you can taste the maple in them. If you're more of a full-on pancakes for breakfast kind of person, we also sell bottles of Michigan Maple Syrup for you to take home. If you've only ever had syrup from a cabin-shaped bottle, do yourself a favor and try this. The real deal can't be beat.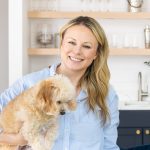 Corynn Coscia is the marketing assistant manager and photographer at Zingerman's Bakehouse. After spending her childhood reluctantly in front of the camera of her hobbyist-photographer father, she was eager to move behind it, prompting her to pursue a BA in Film & Video Studies at the University of Michigan. With degree in hand, she moved to Los Angeles where she worked in the TV and music industries before discovering her passion for food photography while working in marketing with a plant-based chef. 2 dogs, 2 kids, and 13 years later, she's back in Ann Arbor doing what she loves and somehow getting paid for it. She recently completed a photography fellowship with her mentor, New York Times food photographer Andrew Scrivani, and has since been shortlisted for a Pink Lady Food Photographer of the Year award. Her photos can be seen throughout the Bakehouse on the walls, on the website and social media, and in the Bakehouse's series of cookbooklets; she hopes they're making you hungry!